Why Blogging Can Help Your SEO: A 110% Increase the Easy Way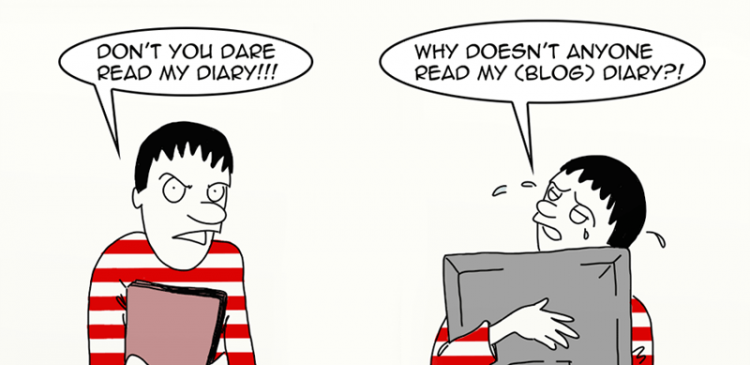 Why People Blog
When you say you "blog", people usually giggle and relate you to their perception of a blogger, which is a geek typing on his computer and expressing his feelings publicly.
Well, that may be true in many cases (don't giggle, bloggers are sensitive!) but there are also other reasons why people blog, like sharing a case study or review, announcing a new product, sharing exciting company news and building new relationships. And some even blog to make money.
Much though some like to look down on it, blogging isn't always just a pastime, just a mindless exercise of expression, or just a sweat-free endeavor.  Many times, it involves hard work.  In exchange for that work, the best bloggers get some type of return, from improved reputation to actual money.  Either way, the return is something they can treat as a resource later on.
Bloggers actually have to think about a lot of things.  Take these, for instance:
What you are going to write about
Who you are writing for
How you are going to relate the content to the readers
What your end goal is
And that's not even an exhaustive list.  The last item is usually the most important.  End goals vary, of course, but for many blog owners today, the end goal is usually the same: money.
Earning from a blog isn't a myth.  It's only possible, however, if you have an audience.  You reach the audience through your content (heck, it can even be content about your feelings, although it doesn't have to be).  The bigger the audience, the better your site traffic, which means more opportunities to make money.
And it sure doesn't hurt your SEO either.
What does it have to do with SEO? (Insert snarky face here.)
You might also be asking: "Does your business website directly benefit from blogging at all? Why not just build a static site (or a single page site) and focus on building backlinks instead?"
Go back to the basics of SEO and inbound marketing and you will see why it's a pretty important piece of the SEO puzzle.
You don't start with backlinks. You start by optimizing your site. You then proceed to creating content that is relevant to your topic. With proper on-page SEO and internal linking, you can make your site's content work to your advantage.
We all know creating "high quality" content is great for different aspects of SEO. That's already a fact and that's why it has a lot to do with SEO.
How Blogging Can Be Important For SEO
There are a lot of SEO benefits to blogging but here are 4 of them:
You make the most of each piece of content you publish – by using on-page SEO and internal linking, you can benefit a lot from your own posts. If you've heard about siloing in the past then the concept is like that. By using your other pages, you can use in-content phrases to link to other relevant pieces of content. This will tell Google more about that page and it often gives you  a good boost in rankings.
It can play a major role in your Content Marketing strategy – one way or another, if you're doing SEO, you'll also be doing content marketing. Your blog can play a vital role in that process, and it usually does. In the end, you get a lot more referral traffic, new backlinks and more organic traffic. #Win
You get to rank for more keywords that you aren't really targeting – One of blogging's more unheralded benefits is that you get to show up for a lot of unexpected keywords! Take a look at your Google Webmaster Tools and check out your impressions and search queries. You'll probably see a lot more words there that you didn't really target but which people are looking for, so why not improve on those and get even more traffic?
Organic traffic converts better that most traffic sources – A lot of the long-time bloggers and businesses out there know how important search engine/organic traffic is and they've probably already noticed how well it converts into leads, sales, email subscribers, followers and new, committed readers. They stayed relevant and increased their traffic exponentially over time by having their posts show up in the search results. That wouldn't have happened if they didn't create content on their blogs.
For your business it could mean…
For a business brand, blogging about your "feelings" publicly might not sound right but if you do things right, you'll get the benefits like those mentioned above.
You can't just buy brand loyalty and trust but blogging can help you bridge the gap between you and your clients by educating them and reaching them when they need you the most.
If you want to start a content strategy immediately, look at it like this: Your content strategy IS your blog. Once you understand this, you'll be ready to commit to it.
The Logic
I took the initiative to start blogging 3 months ago (you'll see blog posts from 6 months back, but we only changed them to earlier dates LOL).  Most of the posts have been for our Digital Marketing Knowledge Center area.  Those articles are for business owners new to SEO and digital marketing, so they might be a little boring for the more seasoned online businesspeople. We finished the bulk of the basic articles we planned on doing 2 weeks ago, and we released this post to start our real blogging journey.
That having been said, there's something else to get out of the way by quickly admitting it. The traffic on this site sucks! Mainly because we don't really promote it.
Could we have done better on getting more leads by building links, doing outreach and creating epic link bait? Of course! That's what we do for clients!
But when we started this site, we only wanted to use it as an "ongoing" case study to show things that we would be doing. Of course, this will eventually (in a year) be our hub for our content marketing strategy.  Not quite yet, though.
Now we get most of our leads from referrals and other startups.  Thus, we didn't really expect a lot of leads from the website (at least for the first 2 years).  But you know what happened after we started blogging?
Impressions shot up!
We've been receiving an average of 5 targeted leads weekly. Mostly from Google, because our basic online marketing blog posts are ranking for a lot of keywords. Not too bad for some blog posts, eh?
You might be wondering: have some of the articles received organic inbound links? YES!
You might be wondering too: will we ever intentionally start building links to these posts? We might by mid-2015.  For now, though, we still have our hands full with other things.  So in the meantime, we're focusing on what's important: our clients.
Anyway, the logic here is that we created useful content, optimized it, and used it to improve our site's overall visibility in the SERPs.
That's not all.  Through internal linking, we got to pass more power and relevance to other posts while making it easy for Google to find our other pages.
Better crawling + Relevancy through internal anchor context linking + Optimized content + Tracking and improving user experience + Proper technical and website structure = Great SEO
Combine that with promotion and consistent improvement? Well, now you see how important a blog can be for SEO.
Something Actionable: How you can do it
What's better than telling you how to do something?  Actually showing you how to do something. So let's get started.
Instead of using our blog again, we'll use one of our recent projects, an up-and-coming fashion blog. Who doesn't love fashion blogs?  We won't be saying who it is as we haven't publicly announced our partnership with her yet, though.
Before we get down to it too, let's note something quickly: the downside for SEO is that fashion blogs are normally scarce on the (written word) content side.  It's an image-heavy niche.  Just keep it in mind as we go.
1. Start blogging!
For new blogs, the first step is simple: do your keyword research. Target long tails and start creating your strategy. Google's Keyword Planner is free and easy to use so I would recommend that. Be sure to include some words in the post that you can link later to other, future posts you create. I would recommend an editorial calendar (like CoSchedule) to make things simpler.
(Also, if you noticed, since I talked about "blogging and SEO" here, if you look around the page, you can see a lot of long tail phrases that I want to eventually show up for.)
Focus on creating a great piece of content when you are starting.  Also, target evergreen topics. These are topics that are always relevant to your readers and potential clients. You'll be updating these articles as things change so you should aim to  be the authority for that topic.
The length? There's absolutely no limit. You can hit up 10,000 words if you want. You can go as short as 500 words like these guys but to be professional, I have to tell you that the "data" points to 1,600 words.
But to be honest, there's really no fixed number. It's not really the number you should be obsessing about, anyway.  If you always let your content be dictated by word count, you'll end up hurting the quality of your content instead and that will turn off your readers.
Need more ideas? Check this link if you need more blog content ideas.
For the fashion blog I'm referring to as our example, we focused on creating new tutorials as evergreen content. We had more text to work with as well so we got to integrate keywords that we found from the research.
As an extra step, we made the tutorials prominent by adding them to the sidebar, at the end of other posts and the navigation menu.  Result?  Each evergreen post is easy to see throughout the site, which will rake in more visitors and eventual inbound links.
Note: If you're new to blogging, you might get confused, so just start with the content THEN you can come back and add the keywords and links later. Just get started!
For further SEO tips, I would suggest checking out this guide from Ana Hoffman. The lady knows what she's talking about, so listen to her. wink  You can just ignore the Google Authorship part as Google killed it recently.
2. Already have some existing content?
Optimize It!
Content optimization is inevitable if you're talking about search engine optimization.  Found some old content on your site? Why not give it an update? It might already have great links pointing to it!
In our case, we found a lot of unoptimized posts. No meta titles and descriptions. Images were generic, no ALT text, not optimized for the web (they were at least 2mb each; with 15 images on a page, that won't load too quickly even if you're in South Korea).
This wasn't shocking, of course.  If you ever ran a blog in the past on your site, you know that you probably have a lot of poor content hanging around somewhere in the corners of that blog too.  It's pretty normal.
That's why blog owners and SEO pros often perform content audits. Check each of your posts and find out which aren't performing.  Learn which have great links and either improve them, redirect to another post or kill them off.  How can you audit your content?  Well, here are some possibilities.
Option 1: Load Open Site Explorer (OSE). Enter your URL and click on Top Pages.
OSE will show you the links each page has, social shares and other details.
Option 2: Use Google Webmaster Tools (Top Pages).
Load GWT and go to your Search Queries area. Click on Top Pages. It won't give you a lot of data, but you'll be able to see your best performing pages.
Option 3: Use Screaming Frog and then export it to URLProfiler.
We can export it to a spreadsheet and figure things out from there.
This is actually what I would normally do.
Screaming Frog will crawl your whole site, it will show you your duplicate problems, missing meta details and so on.
URL Profiler will show you the rest, even social shares.
In the end, you'll know which of your pages are the most popular, which need some work and which pages are the most powerful (in terms of backlinks.)
URL Profiler is my answer to Scrapebox + Add-ons…for Macs. Finally, I can remove my VPS subscription and turn off my damned local Virtual Machine. Now if they see this, I hope they have a discount coupon to send me so I can offer it to you guys.
Note: There are Screaming Frog alternatives like Moz and Rob Hammond's SEO Crawler.
Option 4: Check Google Analytics and find your most popular content.
For a quick summary, here's a report template you can use for Google Analytics.
In the end, you should be able to identify all your best pages using those tools. Skip #3 if you feel like you're complicating things. Spreadsheets can often make things look like something is complicated (when it's really not!).
As we had an internal deadline for this campaign, we only took the best pages, simply gauging traffic based on Google Analytics (Option #4) to make things simpler.  We ended up editing the articles and turning them to evergreen posts. We put in the H tags, fixed the images and added in meta details. It looked pretty good in the end.
So here's a quick question just for a review of the basics: Why do you want to optimize pages?
Easy.  Here's why:
It improves your site's overall SEO
It'll make the existing content rank better
It prepares you for the next steps.
Tip: When blogging, your titles are as important as your whole content. This plugin (and tips) recommended by Sean will help you find the best one to get your target market's attention.
Do Internal Linking
Okay, say you've optimized the content.  Now things are starting to get easier.  You have to move on to internal linking.  Here's how to go about this phase of the process.
Step 1: Prioritize pages you want to optimize and identify their target keywords.
Before you even start constructing links, you have to know which destinations you want your links to lead to.  To cover that, you'll have to perform something of a review again of your posts, as you can see in the following steps.
A. Collect Data
Head on over to Google Webmaster Tools
Go back to Search Queries
Check out the Avg. positions of your keywords
Find the ones that are near page 1 or are already on page 1 (but not ranking #1)
Click on the keyword
You will be brought to a screen like this one
You will see the page URL in question
B. Create a spreadsheet with the URLs you find.
See Column 1 (URLs)
See Column 2 (Target Keywords)
Insert the URLs (and their respective keywords) you found there
Insert important static page URLs (like your services page)
Insert the URLs (and keywords) of the pages you improved earlier
You can make it more complicated but that's what you'll need for now. Only 2 columns of basic data.
Did you see the existing content that you improved earlier? Did you notice where it's ranking? You're leaving money on the table by not making them rank higher!
Step 2: Improve existing pages that are already ranking.
If you found pages that you haven't improved yet, go and fix them up now.
Step 3: Start linking to your other pages.
Start by finding posts on the site that have related keywords you can use.
Grab your spreadsheet and search for the target keywords in your other blog posts. Look for long phrases where you can place your keywords. If your target keyword is about "SEO blog" and you find a phrase like "knowing SEO can really help when you have just started your blog…." don't be afraid to use that phrase to link to your intended page.
To better explain, here's what we did:
One of the keywords we wanted to improve rank for was "best fashion blogs". It should point to the homepage according to Webmaster Tools.
I searched the site for terms similar or related to the target keyword. You probably have a search box on your site too. If you're on WordPress, then go to your posts area. There's a search box on the upper right.
The obvious keywords showed up, like "fashion blog" or long phrases like "blogs I follow because of their great fashion sense".
I edited those posts and added the link using the appropriate anchor text and point them to the homepage. (Remember, we're targeting the homepage only for this example. It could technically be any other page in another situation.)
For some posts, I edited phrases or intentionally added the phrase. For example: "….some fashion bloggers I follow…" –  I improved the content and edited that part into "…..some of the best fashion blogs I follow…" and inserted the hyperlink into the homepage. Remember, you aren't there to put in grammatically wrong anchor text. Treat it as adding value to the reader instead.
The end result after doing all this is that we would end up improving the rankings for "fashion blog" and "fashion blogs", so that's a bonus.  We did the same for other posts and the client's "Offered Services" page.
Note: If you used the OSE tip above, you could see which of your pages have the most backlinks. You can use them to your advantage. The stronger pages have more backlinks pointing to them so using these pages for internal linking will have a bit more importance.
Do External Linking
Yes, you read that right: external linking is part of the content optimization phase.  I could tell you to link out to other people and other sites and you might think I'm crazy.  I actually linked to 3 other local blogs that are within the same vertical: I don't mind at all.
You might be wondering: why would you recommend other people on your blog posts? That's like stealing your traffic, right?
No, not really.
I've linked to a lot of other sites on this post and the traffic I send them will definitely have a wonderful time on their blogs. But it does me some good too.  You see:
The reader will like me for recommending other useful blogs
It helps be build relationships.  I expect nothing in return and I just want to commend the works of other people.  As a side effect, they may choose to promote my post on their social media accounts or link back to my post in their future work. Or they can do nothing, which might not do me much good, exactly, but doesn't hurt me either.  Whatever the case, it's just a bonus, but it does build relationships that can take you farther than any PR8 backlink.
It raises the relevance of my posts.  In this age of semantic search, Google can relate my content to others' content and almost magically figure out what my content is really about. Google = Skynet.
Linking out to other sites looks natural, don't you think?
I only link out to great sites. Not low quality sites. That alone adds trust to my content.
There are probably a few more that I left out, so let me know in the comments section!
Tip 1: Worried about bounce rates? Afraid they'll increase because readers go to other sites? Just open the links in a new window. Boom.
Tip 2: Some sites no-follow all the external links. It's your choice if you want to make the link a No-Follow link. How about sites you hate or want to call out without giving them a benefit of a do-follow link? Just add a rel="nofollow" link in your <a href= tag.
3. Tracking
Okay, so you have your content and you're keeping an eye on it and the links both in and out of the blog.  Now  you have to track the blog's performance, see how it's doing.  Again, keep things simple. Don't overcomplicate things.
Check Google Webmaster Tools
Check back weeks or a month later. You can check improvements by going back to Search Queries, and clicking on "With Change." You will see the recent changes there.
Does it always show things accurately in terms of rankings when I check on Google results? Nope, you have a lot of factors, like location or if you're logged in to your Google account BUT it gives you enough data to tell you if you've improved or not.
Use Google Analytics or QuillEngage
For Google Analytics, you can use the report template I shared with you earlier and compare it to the previous period. You should be able to identify some changes from the data you'll see.
I also like QuillEngage. It sends me weekly and monthly reports for what's essential. You could see referral traffic and your most popular page for that period. It's a detailed summary so you don't even have to log in. It's usually good enough to tell you if you have something that improved.
Taking it a step further, you can actually track your post's performance using a plugin like SumoMe. Why would you do that? So you can further improve it! You can also squeeze in another internal link on where they usually stop. Ninja
There are a lot of crazy (in a positive way) stat tracking tools out there, seriously. A little bit too much, even for an app addict like me. So stick with some basic ones first. They're usually good enough for the simple jobs.
4. Have some spare time? Make sure the whole site is technically "good enough"
If you have some extra time, don't waste it.  It never hurts to audit and optimize the rest of the website as you go.  Here are some quick tips that can help there:
Do an on-page SEO check.
Load SEOptimer
Enter your site URL
Fix what you're missing (Or have your Web guy fix it)
Go to Webmaster Tools for more quick checks.
Check HTML Improvements
Your Index Status (If there's a huge discrepancy, are you on SquareSpace?)
Crawl Errors
Go over the site design.
Check if your site is mobile-ready.  If not, do a redesign. Making it responsive is a good step to take.
Did you code your site by yourself? It's probably messy as hell so start cleaning up the codes while you have time!
Optimize meta details and images.
If you use Screaming Frog earlier, then you might now have a list of all the pages with missing meta details. If not, crawl your site now.
Enter Meta titles and descriptions with the character limits. Keep your titles to 60 characters (could be a bit more but that's a safe length) and keep your descriptions to 150 characters.
Audit the rest of your content.
Are you "Tag" happy? No-index those tag pages. Don't put 100 similar tags on a single post!! Keep it down to, um, 4? No throwing of rotten tomatoes please.
Structured Data, Rich Snippets as needed. You see this post about a recipe? There's a reason why this blog rakes in a lot of traffic. They use structured data really well.
Using WordPress? Figure out whether to use a Page or a Post!
Is it an important page that you'll keep on updating? Use a page.
Is it a new piece of content? Use a post.
Is it a static page like a Privacy or Disclaimer page? Use a page.
Optimize for quick wins on page speed.
The Result
Within 2 weeks I could see some great changes in webmaster tools.
If you're familiar with webmaster tools, you probably know what the columns are. Instead of blurring out a whole load of things on a single screenshot, I'll be showing just 3 of the more generic terms that have smaller impact on our overall result.
Impression numbers are probably not totally accurate but it's something we can measure, so I'm not complaining. It has since tripled since I got these screenshots.
The drop in the 2 impressions showed up because of Google testing where they could get the better CTR. I also noticed a shift for the "fashion blogger" keyword for local search and global search. It should be back to normal within a week or so.
After that month, Webmaster Tools showed these increases.
Takeaway from the whole exercise: Just call it "quick wins." Easy 50% increase in both impressions and clicks.
Taking It One Step Further: Promotion
You will have to do this. Lame as that may sound, this is part of your content marketing after all.
In the example above, I didn't do promotion at all just to show how great on-page SEO can give great results to a blog, especially one that's on the verge of ranking.
But since it's a fashion blog, it'll get regular links from newbie fashion bloggers that are still on free blog platforms like WordPress.com, Weebly, Tumblr or Blogspot. Not really powerful links, but they're natural so I can't really stop them.
Last I checked, it got some (7'ish) links pointing to the homepage, with the brand or URL as anchor text. If they had a direct effect on ranking for all the terms I improved on, it would've happened when the site received links from similar sites in the past. So I won't consider those new links for the experiment.
Just to get you started with your promotions:
Should I use Black Hat SEO? White Hat? Or something in the middle?
My take? Stay white and learn different techniques. If you have a lot of time to kill and want to take this seriously, take some time to learn the concepts of Gray/Black Hat and apply them to White Hat work.
Whatever works for you, really. It's your site. It's a free world. I know a lot of successful Gray and Black Hat marketers too.  But remember, you have to have the right attitude when you apply these strategies and you should know how to do it correctly as there are a lot of consequences involved.
Rant (and probably a little bit of a lecture): There are Black Hat guys that do embarrassing SEO for multi-billion-dollar companies. For the service companies out there, I would assume that you educate your clients of their risks when you do risky SEO for them. If not, then you're not only adding to the negative perception some have of the SEO industry, you're also messing around with someone else's property. It's not your personal project to destroy, after all: it's their business, their money, their reputation, their blood, sweat and tears. If you don't explain to them exactly how much of their property you're risking with your tactics, please GTFO.
THE Question: How often should you blog?
Does it really matter if you're consistent or not? Should you post daily? Maybe blog weekly? Monthly? Quarterly? Which is the best for SEO?
We post weekly here. It's not a problem. We moved last week's post to today because we wanted to give time and make sure that our move to https is complete.
We know people that post monthly or daily. Their overall rankings are awesome~
We'll be experimenting with irregular posting schedules from hereon out to further gather data. Kevin Duncan did a wonderful test about traffic when he blogged daily.  Here's the gist:
If traffic is your primary goal, frequent publishing can be effective if you already have a steady base of readers. However, if your blog currently lacks readership, you're unlikely to see a bump in traffic. Your time would be far better served promoting.

Diminished time and social proof are the two biggest short-term shortcomings of frequent publishing. Long term, the inability to do in-depth promotion is likely the biggest shortcoming of frequent publishing.

If you have a multi-author blog, frequent publishing could make a lot of sense. Social proof would still be an issue, but the burdens of time and promotion would be lessened since there would be multiple bloggers to shoulder them.

There really is no "one right way" to blog. Frequent publishing has many cons, but it has pros, too.
Hope you don't mind me copying that Kevin!
So in the end, which posting frequency is best for SEO? 
Based on the data, it doesn't really matter!
IF your operations can afford a whole team and you have hefty growth goals, then blasting out epic content daily while promoting each one continuously is the way to go. You get to rank for more terms and maximize your traffic potential.
On the other hand, if you can afford to make only one good piece every week or so but can dedicate time to promoting it as often as possible, that can work too. That's why even 1-post-a-month sites can rank really well for each of their posts for multiple terms! Because they create epic content that people will naturally link to and they have time to promote it further.
Create content, optimize your site, promote your content, get links.  Your whole site benefits. #BestForSEO
A Bonus Result: Your own community
In my past 8 (10+? lost track) years online, reading blogs and interacting, I've never seen someone as passionate as Adrienne when it comes to blogging, building and engaging with the community.
According to her, she gets as much traffic from referrals (from all the relationships she has built over the years) as from organic SEO.  That's saying a lot because she has a blog that gets great organic traffic already! So that's A LOT of referral traffic!
What if your blog can get both? How would your business look like today?  Well, there are things you can do for this part.  Here are just a few of them:
Ask questions or ask for their input. What do they think? Get them to comment!
Reply each time
Connect on social media
Find influencers in your niche. How? Use Topsy or Followerwonk, while building to be an influencer in the process.
Build a relationship with them.
Go to their sites and start networking with them. I know you are busy, so schedule time to visit their blogs.
Be memorable.
Share their content
You can probably think of a lot more. Personally, I'm not there yet. I have a long way to go but these are the things that have worked for me and I consider the people I mention on this post as my friends. Hopefully, I'm one to them, too.
Once you start getting organic traffic to come in, never forget about the readers. Connect with them and they'll be your brand's lifelong fans.
Actual Bloggers Getting Traffic From SEO + Blogging
Besides all the great bloggers I linked to above, here are some of the other bloggers that have proven that SEO and blogging do work hand in hand.
Nick Eubanks posts about advanced SEO topics and is probably my favourite SEO related blog. Since it's ranking for some broad terms, then you can assume that he is getting boatloads of targeted  traffic daily.
Stuart Walker's content work and site are pretty awesome. I've only started following him recently but looking at the site's stats, I'm pretty sure he's getting a lot of organic traffic. Definitely a great blogger to look up to.
Dave Schneider is like the second coming of Matthew Woodward. (Hope you guys won't mind the comparison? LOL)
He has a ton of projects, another new startup (Ninja Outreach) that I already linked to on this post and he is also gearing up to launch his Mastermind group soon. So keep an eye out for that. He publishes regular income reports and you could see his traffic grow over time using effective content to improve his visibility in the search engines.
Marc Andre, much like Dave above, is one of the up and comers that I follow. His content and SEO work is topnotch, so I have no doubt he ranks for a ton of terms.
Matthew Capala is a blogger/professor/speaker/author. What else is there to say. His blog is going great and highly targeted. That's why he can author books about SEO.
 
Note: My first guest post this year will be launched on his blog soon. This is the link so it won't work until it's published.
Ryan Biddulph dropped into my radar because of Matt when I saw him in on of his books. I have no doubt that Ryan's site is getting a lot of organic traffic from a lot of long tail keywords. He writes mega posts like it's nothing. This post took me 2 days to finish. He can do it in 1 morning. I got started online because of the 4 Hour Work Week, so what Ryan is doing now, that's like a dream of mine! In 5 years, I hope to be doing the same thing. Check out his eBooks when you have that itch to be a digital nomad.
Enstine Muki is a firestarter, I mean that in a good way. I'm not sure if you'd feel the same, but I think I can hear his voice when I read his blog posts. It sounds like he's so enthusiastic! He has some projects like Broaded and it's pretty good! Looking at his site's stats, I'm pretty confident that it's receiving some good organic traffic.
Don Purdum doesn't even worry about SEO, he just keeps on churning out great content business owners and bloggers can relate to. THAT is why he is raking in pretty good organic traffic.
Ramsay Taplin is like ProBlogger 2.0. When you think of blogging, you'd want to think of his site. Imagine the organic traffic he must be getting now?
Adam Connell is like ProBlogger 2.0a, simply because I typed his name after Ramsay. So that's essentially a tie. What I also like is how Adam tracks and tests his site. Applying those findings = great for SEO.
Unlike Marvel Movies, I'll be featuring women too because… let's be honest guys, many women are better bloggers than us!
I mentioned Ana earlier. I also mentioned Adrienne, so the next person you think about is always Harleena Singh (that goes both ways) – 19k Alexa is huge, no matter how inaccurate Alexa is. Organic Traffic + Referral Traffic = Ballin'
I've also been following these 4 amazing women for at least 3 months now. I could see why they have such great followings and all their blogs are consistently churning up organic traffic.
Carol Amato, Catherine Holt, Sue Anne Dunlevie and Brittany Bullen give you actionable tips on every post they make. All their blogs are really clean, fast and optimized. Best of all? They are just getting started. How could they not rank and bank?
Michelle's (Finance) blog dropped onto my lap a day ago because I was looking at…I don't know! I actually forgot! I just found it on Google! Which is awesome because I wouldn't have found it in the first place. It's a pretty cool blog with an income report as well. She just got a new loyal reader.
I only read 1 food blog regularly. It's called Pinch Of Yum. I LOVE their story and I LOVE their blog. Each recipe or post is highly optimized and very focused. I have no doubt that their site is getting a LOT of organic traffic. If you are in the same space, there are no better bloggers to look up to.
So do you still think blogging won't benefit your organic rankings? All of these great bloggers have proven that blogging can really help with SEO and vice versa.
Why Your Business WON'T Need a Blog
I'll be honest, not all businesses need a blog. When you say content marketing, it doesn't mean that a blog is required. It's really not! But it does help.
The only time I would recommend not having one is when you can't really commit or invest time for it.
Create a strategy, craft a schedule of when you will post on the blog and make sure the content is created according to your plan. Then see if you can do that, even once a month.
If you can't, then that's the time to drop the idea of blogging and focus on off-page content marketing and guest blogging.
Why Your Business NEEDS a Blog
Your business, more often than not, will benefit from having a blog. You can even make it your #1 marketing platform like what many other businesses already do.
By blogging, they connect with their market and they get found by new, targeted, potential clients and readers. Since the traffic came from their efforts with SEO, they get to convert them into email list subscribers and that will lead to marketing promotions, brand building and eventual sales.
You can consider it a sales funnel where you can capture cold or hot leads, educate them, build trust and reap exponential benefits in the long run.
Start Today
By holding back, you might be leaving money on the table. As I showed in my example, a few quick wins using your blog can jump start your site to better visibility. Pushing it further will open your business to new possibilities.
Your competition won't stop improving and the technology around your customers won't stop distracting them.
You have a chance to catch their attention by taking action ASAP. Don't lose this chance to build a stronger client base and build brand loyalty with better SEO by using your blog as your primary content platform.
So, after all the things you read above, do you agree?  Do you think blogging can really improve your SEO? Tell me what you think and give it to me straight 'cause I can take it 😉
PS. Like it? Share it!
Take The Conversation Further
We'd love to hear from you about this article. Join the LeapFroggr Lead Generation Dojo!