5 Reasons Why Businesses in the Philippines Need Digital Marketing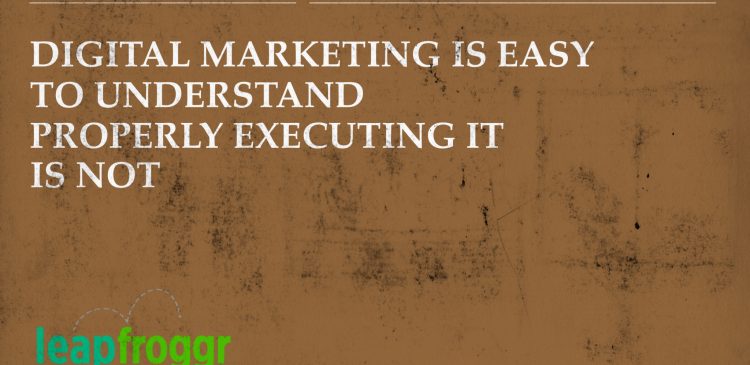 I've been doing local, online marketing since 2004 here in the Philippines and I've personally witnessed how things have changed. From Ebay, Friendster, Multiply to what Sulit/OLX is today, things have drastically changed to say the least, in terms of promoting businesses and their products online.
This year, one of our goals is to get our feet wet and start introducing our company and it's services to potential clients here in the Philippines. It's not an easy task as most business owners haven't come across the potentials of digital marketing, let alone, SEO.
When I mention digital marketing to business owners, it's always associated to words like "creative" which often leads them to think of "big corporations" to "SEO or digital agencies" and eventually, "expensive prices." Then we discuss that we focus on the consistent and long term processes of digital marketing, which includes SEO or Search Engine Optimization, PPC/Pay-Per-Click or Search Engine Marketing, Social Media Marketing and Email Marketing.
As you can see, they aren't the easiest of services to explain, couple that with thoughts of "pricing" and it certainly makes things more complicated to a business owner who usually wants to understand everything.
We recently started blogging about SEO and the basics of digital marketing on the LeapFroggr blog, so we expected to receive a wide range of questions especially from business owners looking to get started online.
The main question we get that we think should be answered is:
Why should I promote my business online when I don't even think that there are people searching for it?
Indeed, why would local businesses want to pursue online marketing when the Philippines is just a small market and with limited data sources?
Here are 5 Reasons Why You Need Digital Marketing
1. Branding
Whether you are a startup or an old, established business, you always need to grow your brand and increase your visibility. That's one of the main ways you can grow your business, right?
For many, branding is actually the most important part of their marketing. It establishes your credibility, and it makes your customers remember you.
See those big brands on TV? They advertise just to promote their brand, to get their message out there even if they can't accurately measure the results from those expensive campaigns.
You already know about their brand but they keep promoting just to be in front of you. They do that online, too. When you log on to Facebook, when you go to Twitter, Google+, even Pinterest. They want you to remember their brand. It's a f'n big deal.
For small businesses and startups, it's a great way to get your brand started. 
It's the same for established brands, PLUS you can increase your reach nationally and internationally if needed. There's really a lot of room for growth.
The past year alone, you've seen a lot of new brands built just through the internet. You've probably clicked on them already on Facebook.
2. First Mover Advantage
When you search for mainstream products online, you almost always find the same brands, right? It's because they moved first and worked hard to get their brands there.
They invested time and money to plan out a strategy to improve their brand and positioning online.
If you started now, wouldn't you be ahead of your competitors? Localisation is happening and what you see online now will change drastically, showing you more "local" results.
In a couple years, it will be big in the Philippines. Searches will increase. More data will be available. Moving now will give you that edge.
Internet marketing is not easy. It's not a "do something now = instant results" kind of thing. If someone offers you something along those lines, RUN. They will destroy your brand. We can show you proof if you need us to.
3. Getting Found
Local SEO is a huge part of the future. Everything will be "localized" to give you better results. Google+ Business is going to take over where Facebook (seems to have) dropped the ball. 
Have you ever tried searching for a restaurant or a hotel in Google? Saw a map there? If it's a good brand, it's probably there, but not always.
Trust me, I've searched online before just to find nothing but an address that I can't even find on Google Maps, let alone a real map. It's a hassle and as a potential customer, it turns me off. You might even get lost because of the wrong information on the map, which happens often.
What if you were the first one I see there instead, with your operating hours, great looking pictures and awesome reviews from other clients? Yup, you have a 95% converting client right there. With the 5% being the chance that I'd change my mind.
4. Community Building
It's not hard to understand this nowadays. You probably are following a business on Instagram now or liked a Facebook page for a local business.
You could se all those customers that comment and give out awesome reviews. It gives you that tingling sensation to buy their product on impulse after reading real reviews from real customers.
Even a post from a celebrity on Instagram would make you want to purchase their product.
Brand advocates are key to selling more, more-so in the future. Using a Facebook page for your business, you can start reaching out to your potential clients. You could post testimonials, product reviews, new announcements about your company and more! It's a great marketing channel that you normally can't reach with traditional media.
Plus, you have a whole bunch of options on where you can target people. Tumblr has it's own specific users, so does Instagram, Twitter and even Pinterest, if you want to target women.
You can also get some social proof on your own website. Get reviews there like Amazon and it's almost a sure sell when someone looking for it sees it. You can start a forum and have your customers discuss their experiences and share their feedbacks. 
Take care of your community and they will love you back. 
5. Positioning
SEO takes time. As mentioned before, it's not an overnight thing. Depending on your competition, it might take 3 months just to see significant movement. It might take you 6-12 months just to hit the front page. Sometimes, more. Starting early will give you a lead and more time to prepare for your competitors because rushing SEO will give you that penalty that you don't want near your brand, look at what happened to Expedia and JC Penney. I could name local brands here, but we're working with them already for penalty recoveries.
You might be thinking, social media is easier and faster to promote with. Well, social media also takes time. You need to build your community, your brand's authority in the online space, your trust with your customers. Trust from your community is not given. It is earned.
Local digital marketing here in the Philippines is obviously still in the infancy stage. Most businesses still operate in a brick and mortar way, stuck in their cycle of "what works" and I can't blame them. Change is not something welcomed by most people.
Most of the established businesses here are still afraid of getting websites. Most of them just don't want to pay for a website since they could apparently get it free from free blogging sites or classified ad platforms.
In the Philippines right now, the automotive and real estate industries are very competitive. A lot of brands are pouring money already just to get ahead of the competition.
For those that still doubt SEO and digital marketing, take a look at the startups that are backed with ridiculous fundings.
They are already here in the Philippines and they want to take over South East Asia. They know it's important to start early, to position their brands, to build their loyal following, to build their authority in the space that they want to take over.
You probably already visited their site, so you now see their ads on every site you go to. Creepy, huh?
How about if your business had the same opportunity for online visibility? You'd probably position yourself early and lead your industry for years to come.
Note: The list above applies to any business in the world. Digital marketing is for everyone. We currently have an ebook about digital marketing for small businesses in the works. We're going to give it away for free so stay tuned!
Take The Conversation Further
We'd love to hear from you about this article. Join the LeapFroggr Lead Generation Dojo!