Get More Customers by Following a Digital Marketing Plan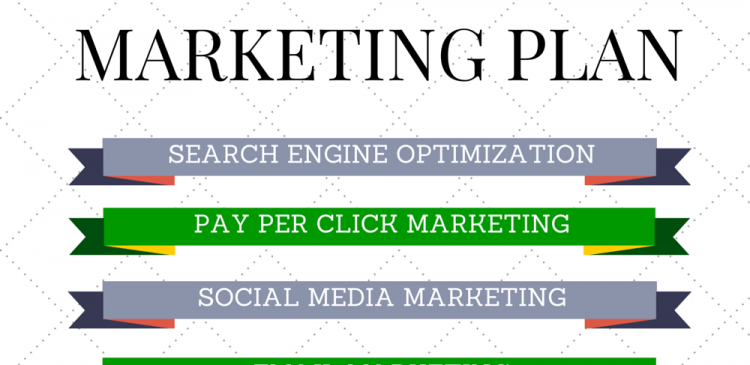 The Complete Beginner's Guide to Creating Your Own Digital Marketing Plan
Many businesses start with their digital marketing but lose track in the process of everything else that they do.
Some start with a lot of momentum at the beginning of the year, only to fizzle out after the first quarter.
To those that are reading this, it's still early in the year, but you might have already drowned with all the work assigned to you and forgotten about marketing altogether.
As you can see, it's easy to get lost.
Don't worry. It's not just you.
A lot of the companies start running out of the gates like it's a sprint. The same goes to bootstrappers that run their own campaigns. Red hot, full of momentum and enthusiasm.
Then POOF! Everything stops.
They got too busy doing their own things and their digital marketing work had to take a back seat.
Many of the businesses and managers that we now advise or work with went through the same problems.
It's a fairly common thing, which is why the online market is still pretty much wide open. Many businesses (start-ups and old businesses alike) are still hesitant to invest money and time for it but some are beginning to do so and are already reaping the rewards. Long term, they have the advantage because they moved first.
Don't you think you should, too?
If you do, then it's time for you to get your feet wet and not make the same mistakes they did.
Crafting Your Own Digital Marketing Plan
Digital Marketing covers a wide scope. You'll get lost in all the lingo if you dove in now.
So let's just focus on the Internet marketing side for now… but you will still be able to add in other digital marketing strategies, such as SMS marketing at the end.
For this online digital marketing plan, there are 5 main categories:
Pay Per Click Marketing
Social Media Marketing
Email Marketing
Conversion Rate Optimization
Each of them will have "Sub-Categories" and each Sub-Category will be broken down into Tasks. Tasks can have multiple sub-tasks that you will need to identify and streamline to fit your own process and level of knowledge.
Note: I will not be going through a step by step on how you can do each task. That will be over 15,000 words per main category and it will just bore the heck out of you. Instead, I will link to the best people you can learn from so you can take your time to learn each one.
Search Engine Optimization Plan
🔥 Build a Good Foundation. Begin with SEO in Mind.
Here at LeapFroggr, we focus on SEO a lot for most of our digital marketing campaigns. The reasoning is that we want to use other Internet marketing strategies to complement the SEO processes that we do.
By doing so, we maximize the long-term free traffic from search engines like Google and Bing, convert them to leads/sales better, while getting more data to further improve our other marketing campaigns.
At the end of the day, we want the brand's website to be visible, trusted and be remembered.
You should treat SEO as the foundation of your brand's online marketing campaign and much like with buildings & organizations, if the foundation is great, then it will practically last you a lifetime.
If you are new to SEO, then here's a quick read.
On-Page SEO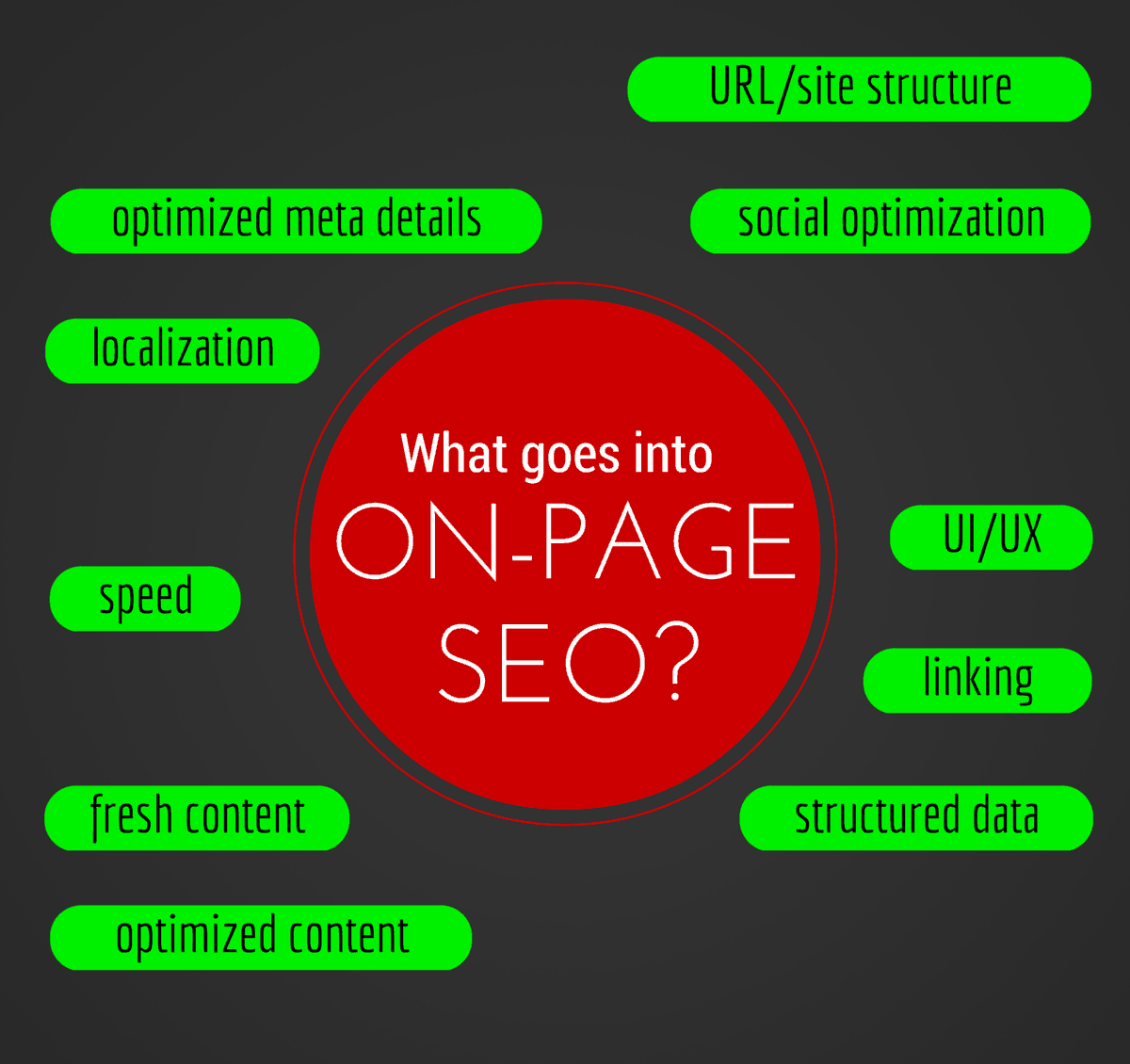 There are plenty of ways to make money online without having a website.  But for brands and companies, having a website and building that up is usually the best option.
This is the first (major) sub-category under SEO and it's something you should not neglect.
A lot of people just throw up websites and leave it alone.
They will think there are no customers online because they don't get any sales. They think the Internet sucks for business. They give up and spread the word about how putting up a website is a waste of time and money.
Sound familiar? Are you going through this phase now?
If they thought about it a little bit harder, then they'd realize that most people look for things using a search engine like Google. That's probably how they found information, too.
If they dug a little bit more, they'd learn that they can use this thing called SEO to get traffic and eventually, sales.
If they did good on-page SEO right from the start for their website, they eventually would've gotten traffic, leads and sales even after leaving it alone.
That's how important on-page SEO is today. Great on-page SEO is already half the battle.
So, let's break this sub-category down to smaller tasks.
⓵ Optimized content.
High quality content. We've all heard it before. Even those not in the marketing industry know about this.
The trick with on-page SEO is that you need to base your content on great market and keyword research. High quality content alone won't cut it when Google can't classify where to put you and when to show you.
If you are new to SEO then start with long tail keywords and work your way up to higher level keywords. You need to surround your content with relevant keywords as well (if you read about LSI/Semantic Web then this is basically it) and this is where tools like Google's Keyword Planner can easily help you generate related keyword groups.
How about content length? There's really no true answer to this. Statistically speaking, 1000-word content tends to dominate the search results… but there are bloggers that post 250-word content and they rank pretty well.  Some do 10,000 words in one post and they also do pretty well.
There are other factors such as domain trust and backlinks to the content, that can boost the content and make it rank.  But generally speaking, as long as you deliver value and Google sees your content as relevant to the search term being used, then you will start showing up, though at a lower position.
Using images and other media can also help your relevance. Google can see meta data and even recognize faces/objects within images.
Other things such as markups, which we will discuss later, also contribute to the relevancy of the content.
So at the end of the day, you need to do your research and plan your content well. Do not be afraid to update your content as well.
⓶ Meta Details Optimization
When I say Meta Details, I am usually referring to the Meta Title, Meta Description, ALT tags and whatever meta data you can add on each page of your site.
Basically, you need to optimize each of your pages when you reach this part of the plan. You need to set your meta title to below 65 characters and meta description to below 156 characters. If you haven't noticed, these are the things that show up in your search results when you Google something.
If they are a little over the limit, it will look cut-off on Google. If it's too irrelevant or too long, then Google will show what it thinks is right, sometimes changing it altogether.
There are some instances when you'll need to shorten them because Google will show some other snippets, usually for local search. In these cases, keep an eye on your listings when you show up in the results and edit as needed.
Do not force keywords in though. If you do, Google will notice and place you at a lower spot.
Lastly, you need to think about the user. Google factors in who gets the most clicks from its results. The more clicks, the better your relevance looks in Google's eyes so you have to write your title and description for the user. If you think about it, that makes a lot of sense.
How about Meta Keywords? This can be ignored in most cases because they are not ranking factors nowadays and will only give away your keywords to your competitors. On a side note, I did do a recent experiment about meta keywords that gave me something to think about. I applied a different set of keywords vs totally different content. Basing on Google Webmaster Tools, I got some impressions from the irrelevant meta keywords I used which is a sign that Google might look at it but only up to a certain point and not to determine your rankings.
⓷ Website and URL Structure
Your overall website structure and how clean your codes are, are both very important.
Google's bots will crawl your site regularly so the quicker and more efficiently it's done, the better it is. It also contributes to website speed which we will discuss shortly.
If you have heard about "Siloing" or content theming, then it's also a great way to optimize your whole website structure. If your website covers various topics or product types, then you can organize content very easily by theming/grouping relevant items together under a main category.
The URL structure is also something that you need to optimize. Using a URL that is very long is not as efficient as using something that is memorable and relevant.
Wouldn't a URL like "leapfroggr.com/newsletter" be better than "example.com/sign-up-today-for-our-newsletter-451243?"
As a bonus, using breadcrumbs (such as the one we use at the top of this page) can make the site easier to crawl for bots and add to the user experience.
⓸ Localization
Local SEO will only get bigger as it is improving month by month. Local SEO today is very different from what it was before and they are still testing new things.
They added maps, tested using carousels, added site link and many others so optimizing today for local is harder than ever.
This is why you need to be one step ahead of your competition.
Optimize with geo sitemaps, use proper NAP (name, address, phone number) format, the correct local schema/snippets, Google+/Places verification, optimize your logo (yes, logo) and you'd be ahead of them.
Local is the new global. So optimize for it today and you'll thank yourself for doing so.
⓹ Social Optimization
Not really the most important thing on the list, but it helps with your overall branding and as it is part of on-page optimization, then I am including this here. Long term, who knows? Maybe it can be a bigger factor as social media continues to grow.
Your site needs to have Open Graph. This will help Facebook (LinkedIN, Google+ and Twitter as well) get the most relevant data from your pages when it's shared. It will also show the official Facebook page URL. If you use a CMS such as WordPress, plugins like Yoast WordPress SEO can easily handle this if your theme doesn't come with it.
For Twitter, Twitter cards should be validated but if you do not have this, Open Graph meta data will be used.
You will need to add a Google+ Publisher code on your site as well to verify to Google that it is your official Google Plus page.
There's not much else to say. It's pretty straightforward. Set it up once, and you are good to go.
⓺Structured Data
We've all seen these before.
When you look for a recipe on Google, you see results with ratings. When you look for an event, you'll see a list of events right on the search results under a listing. When you look at businesses, you'll see the time they close and their contact details. Back then, you could also see faces of authors using Google Authorship.
Structured data is everywhere now and using it to make the most of your SEO is great. It isn't a deal breaker but it is a part of the "optimization" work and it's the little things like this that can get your listings more clicks and traffic. This will also open up the doors for your brand to get indirect links to point to your site.
Apply the right schema that fits your website. Don't force it if it's irrelevant.
Learn more about Schema's here and this tool is pretty handy as well. Once you are done applying the snippets, then test it out here. We have other recommendations in the Resources tab.
⓻ Speed/UI/UX
When working on the site, we tend to put a little bit too much code or use big un-optimized images, and those tend to slow down the site. Google officially mentioned that it's important to have a fast loading website.
So it's up to you to speed up your website as much as possible. From switching to a better host, to using CDNs to host your images, activate page/browser caching, improve your code and just plain minimizing the things that your site loads. They all contribute to speeding up the whole website. Tools like Pingdom and Google Insights  are pretty much spot-on when it comes to checking your site's speed.
Google has also been pretty open talking about User Interface and User Experience. These things come hand in hand and it's hard to see why they would lie about it. After a lot of tests, I could conclusively say that they do help with rankings.
Oh, and don't forget about mobile users. It's getting bigger each day and Google can even show you if the listing is mobile-ready now.
When you design your website, design it with the user in mind. That will let them stay longer on the site, find your content engaging and it will enable them to do other things more easily, such as sharing it on social media or whatever your call-to-action is.
UI/UX combined with great load speed leads to a great overall experience and THAT is very important.
⓼ Linking
Linking internally to other relevant pages can help a lot with SEO. You have to think about helping your user find your other content that is relevant to what they are looking at now.
As you can see on this post, it can help with the rankings. It will also make them stay longer on the site, which is a big bonus. You don't want them to click on your Google result only to click back to Google after a couple seconds.
External linking, though often misunderstood, is also a part of on-page SEO. Regular people tend to link to relevant/authority sites, so using common sense, that's the natural thing to do.
Many people do not even try to link out. They don't want other people to rank higher because they gave a free link to them.
The idea here is to use common sense. Good sites tend to link to great/big sites. They also tend to link to sites or content that are relevant to theirs. Google put a great deal of importance on relevancy and trust and by linking in & out, it will look natural while being relevant at the same time.
⓽ Fresh Content
This is optional because some websites will not have a blog or a place to put up content.
If you do have one, then consistently creating or updating old content is a must.
Depending on the niche, you might have to publish more often but SEO-wise, the number of articles you create does not directly affect your rankings.
There are certain searched keywords that will automatically show the most recent content (such as for news related keywords) but in most niches, you won't have to worry about Google's Freshness algorithm.
Once you are invested in creating content regularly, then you need to have a separate plan and organize it.
This is where an editorial calendar comes in, especially when dealing with a blog. It will do wonders for you so don't overlook it.
😎 Resources
Casey Meraz made one of the best local SEO guides in recent memory. Check out his steps on working on your website/landing page.
This has been my fav post about Schema for the longest time. They were still called SEOGadget back then.
Kissmetrics wrote a great piece about Open Graph.
Why SEOs Need To Care About User Experience – a great piece from Patrick Hathaway to tell you what you need to improve your user experience.
A quick beginner's guide to on-page SEO from Kate Toon and some advanced SEO concepts here from Cyrus Shepard.
Off-Page SEO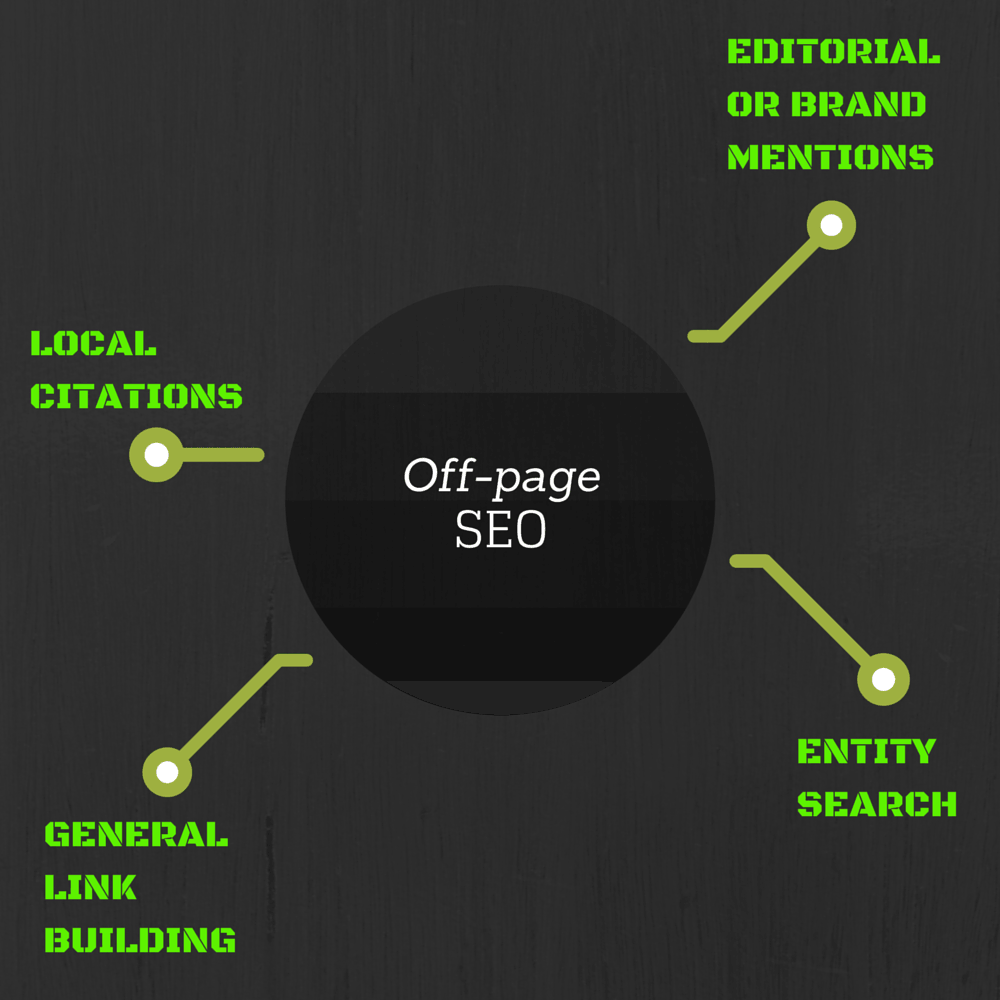 If you've stumbled upon SEO, then the first thing you usually hear about is "links" and that you need to build links to point to your website.
More often than not, newbies take that the wrong way. They proceed to create thousands of artificial links, hire bad SEO specialists or outsource to cheap SEO contractors and flat out get penalized.
Off-Page SEO is the next sub-category under SEO that you need to plan out. It's definitely harder than on-page SEO but the rewards are gratifying.
⒈ General Link Building
Link building, as many of you know by now, has a lot of different types. There are easy ones to do, complicated ones to chase, almost impossible ones that you need to work hard for and then there are those miracles, you know, those unexpected links from big sites that that also bring you a torrent of traffic.
I would plan this out by breaking it down to processes by link type. For example, if I will be working on creating targeted directory links, I would create steps on how to find them, classify and submit a link to them. Basically, use a certain set of queries, identify the metrics (such as PA/DA/PR/Estimated Traffic/etc) that I want to use and submit links to sites that qualify.
For broken link building, guest posting or just plain old outreach, I would break down the steps, too. This goes the same for looking for other types of links. For local sites, you'll need to look for local link sources as well as geo-tagging/linking to your website.
Keep in mind that you need to factor in the do's and dont's of link building when you plan out what you will be doing. Don't overuse anchor text, don't put up the same types of links because it's easy to do, and so on.
I will put up links to link building tips and tutorials in the resources area. It's up to you to break them down into little tasks that you can apply as part of your link building process.
⒉ Local Citations
If you are working on a local website, then getting citations is a big priority.
Be sure to use the exact same NAP you used when you optimized your local website.
Citations can often be confused with link building from a newbies perspective but it's really not the same.
Start off with a local citations plan. Compile information about your business so that you can copy and paste the repetitive details.
You then need to look for sites and directories where you can put your details. You will also be able to use blogs and sites that can talk about your services/products and let them include your NAP.
That's pretty much it. Rinse and repeat.
For certain local specific sites like FourSquare and Yelp, you'll need to fill up the details as much as possible for your company. Get people to review and use and you'll benefit with great rankings in Google's results as well as better internal rankings.
⒊ Editorial/Brand Mentions
Much like citations, you don't have to get a link back to your site. A brand mention or a URL mention is good enough to be counted as a link.
Google has evolved to a point where it can identify mentions and consider them backlinks.
That's how important a brand name is so don't sleep on it. If you get a chance but you can't get a link, then ask for a mention. It's better than nothing.
So for this part, you should look at your options and plan out how you can get noticed by news sites and the likes. Even a mere mention from big sites can do wonders for your brand.
⒋ Entity Search
To make sure that Google knows about your brand, be sure that it's in the knowledge graph.
What I mean by this is that Google needs to know about your brand if it's not yet a household name.
For example, search for "when was leapfroggr founded" or "how old is steve jobs" and do see the result? It can tell you the answer right there on the results page.
They must be using data from somewhere, right? So that's where you will need to force yourself in.
Currently, they are using Freebase but soon, it's all going to be from Wikidata.
All you need to do is make sure your brand is there with as much data as possible. I mentioned structured data earlier, well, that also helps them identify names and other details faster.
Will it show up immediately? Nope. It might take months or even a year. Just make sure that the data is there.
I will include a good tutorial on the resources area so be sure to check that out.
🔥 Resources
When you talk about link building, Paddy Moogan is up there with the best of them. His basic link building guide on Moz is one of the best out there.
Speaking of Paddy, this list of resources is one of the best out there, along with this one from Razvan, Brian and this one from Jon.
Local citations can be a pain but with this guide from Phil Rozek, suddenly, it just became easy.
This post from Andrew was one of the first out there about the Knowledge Graph. If you want to learn about it, start here.
Other SEO-related Tasks
Besides the 2 above, there are still other minor tasks that you need to plan and execute. I will be including just some of them here but I'll try to update this part with new tasks when I can.
⑴ Mention Tracking
Setting up trackers to notify you when your brand or keywords are mentioned can sometimes lead to link opportunities and it can sometimes save your brand, especially when you can resolve a negative experience quickly before it escalates.
Trackers like Google Alerts, Mention and TalkWalker are some of the best out there today.
Simply set up an account and add your keywords in.
⑵ Rank Tracking
I will probably get some flak for mentioning this but this is SEO and rank tracking is the easiest way to gauge results. You can go into Google Webmaster Tools and check estimates there but it still is different compared to getting a live result.
There are cloud apps, native softwares and some are even built-in with other tools like Moz. (We also develop iOS apps BTW.)
Just set it up once and schedule when you want it to check and when you want to look at them.
⑶ Link Audit
Spare some time to analyze your current backlinks and schedule an audit every few months after starting with your SEO campaign.
You can see the links by checking within Google Webmaster Tools or through link checkers such as AHrefs/MajesticSEO/OSE and others.
Sometimes, you'll see a link going to a page that would better work if it was pointing to another page. Sometimes you'll see links pointing to a dead page on your site already so you can recover that link and benefit from it. Sometimes, you'll see that someone is sending you bad links and you will get a heads up and be able to avoid a penalty.
Internal links can sometimes be broken, too. To ensure great user experience, you need to fix all the broken links.
It's easy but effective.
Pay Per Click Marketing (AdWords) Plan
🔥 Get in front of your audience. Run tests, adapt and #win faster.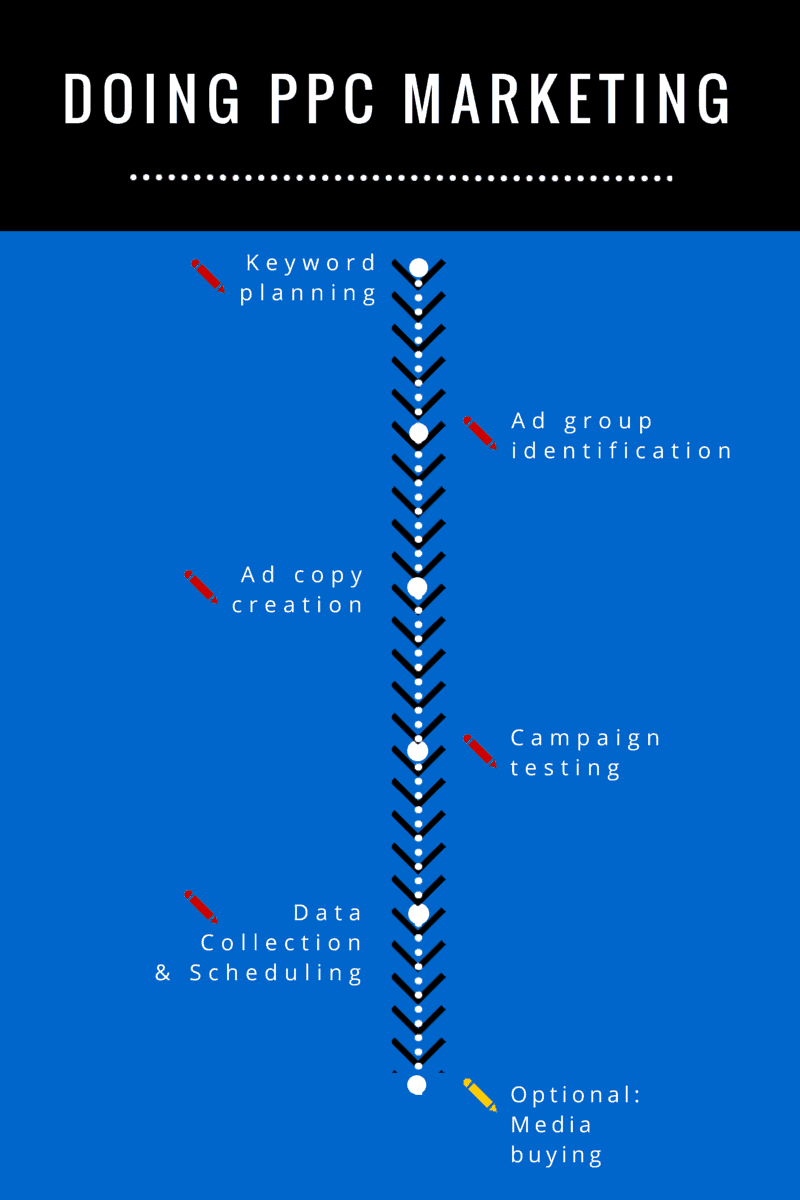 PPC includes a lot of tests and research. Professionals will meticulously crunch the numbers, observe results and apply tweaks.
I will not be talking about goals, best practices and improving quality score. I will also not be talking about shopping ads as that's a totally different beast.
Instead, I will just list the basic tasks that you will be handling when you are planning out your PPC campaigns.
– Keyword Planner
I used to hate Google's decision to switch to the new Keyword Planner but things worked out for the better. This tool is definitely a whole lot more useful and it speeds up my whole process of research and grouping.
This is the first task you'll need to take care of.
As you already did some research and have some initial data when you worked on creating your site's content, you now need to research target keywords that are relevant to your offer.
Note: Get as much keyword data as possible!
– Identify Ad Groups
Once you have finished your keyword research, you now need to split them into ad groups.
This basically helps you organize the related keyword together so you can create ads, offers and landing pages specifically for each of those segments.
The Keyword Planner can help you do this easily and put it on AdWords with just a few clicks.
Once you do you are already half way done with your setup.
– Create Ad Copy
Now that you are armed with the knowledge of new keywords, you can start your campaign.
Create a new campaign and target the search network only.
Setup the keywords/ad groups, set a daily budget and target location.
Start creating your text ads and publish them.
It'll take less than an hour to get your campaign approved.
Note: If you haven't, then download the AdWords editor tool. Thank me later.
– Test Campaigns
Be sure that you set an initial budget and stick with it. Things can get out of hand pretty quickly with someone careless running these campaigns.
You can start with a bigger budget if you want to test your offer quickly.
For those that want to stick with their smaller budgets, then leave it for a day then come back to check out the results.
Keep testing these ads (ad copy, offer, title) because like SEO, it's an ongoing battle against competitors and they can easily outbid you and get the data first.
– Schedule | Gather Data
Be sure to schedule when you will be checking the ad campaigns you are running. If you forget even just a week, you could potentially lose a lot of money.
Gather as much data as Google can give. Improve your ad copy, tweak keywords, improve your landing page and offers based on the CTR/Impressions/conversions data.
You will notice that there's a feature that can handle Automation scripts for you but it is optional. It's easy to set-up though if you have that need.
– The Display Network
This is an optional step but if you stumbled upon the term media buying and would like to try it out, then the Display Network is the biggest one out there and it's pretty safe to test.
If you are familiar with AdSense, then these are the display ads that get shown on your site. For those that aren't familiar with it, it's basically the ads shown (mostly) on websites and blogs that you visit. The banner ads that has that blue arrow near the border that says "AdChoices" or something similar.
The main tasks you need to do here is to start creating image ads that are exactly the sizes specified by the display network. The next thing you need to do is set up the campaign within AdWords and select Display Network only. You can then put the target sites and other targeting you want to assign to the campaign. It's almost similar to Facebook's Ad platform, just different ways of targeting the demographic.
One last thing: remarketing. Since you are already testing out the display network at this point, then you might want to give that a try. It can also be set up inside AdWords, so set up your "Audiences", add the code to your website, create the remarketing campaign and you'll have the option to target the audiences that you segmented, like the previous visitors on your site or those the visited a certain page. Now you know how Zalora ads can follow you around to any site you go to.
🔥 Resources
PPC is also a great tool to help with SEO. Contrary to what you might read out there, running a PPC campaign is one of the best investments you'll do since it will help with your SEO.
Larry Kim is one of the people I look up to when it comes to PPC and this slide deck of his is as straightforward as anything can get. This one's pretty good, too.
Wondering how you will be structuring your groups? Check this out.
Thinking about increasing your lead generation? Check this out to learn why advertising will help.
Social Media Marketing Plan
😎 Build social proof, trust and raving fans.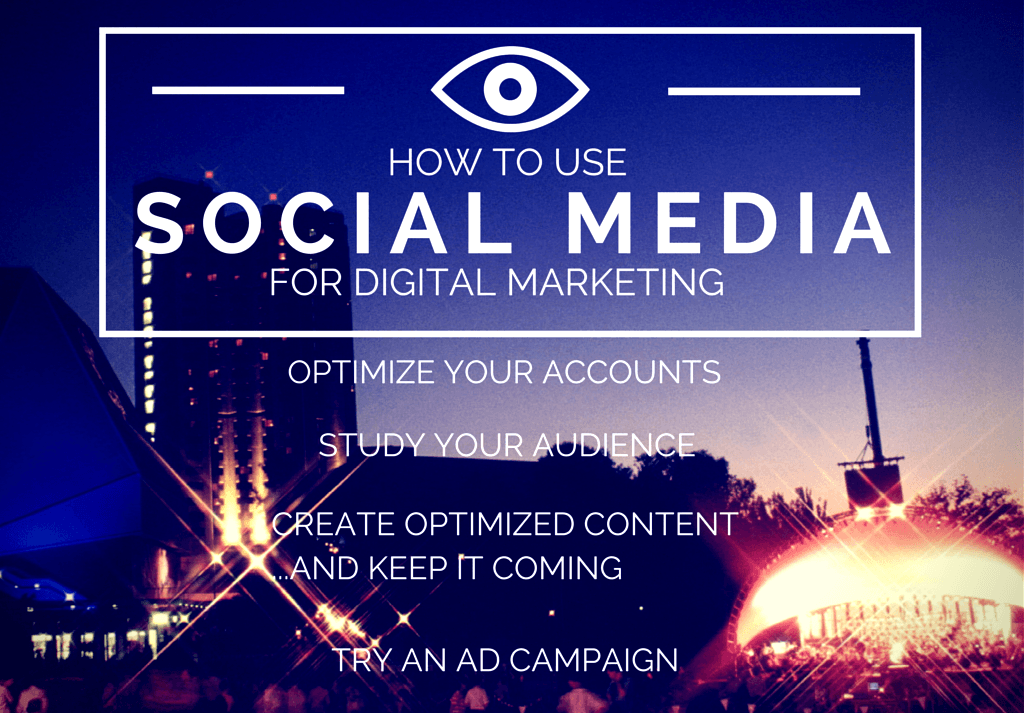 Social media is huge but depending on the type of business you have, you might want to leave this last if you had to choose between this and SEO.
It can be a real rewarding process if given time or it can be an epic failure if handled wrongly.
Either way, you'll get eyeballs to see your brand and people can send you feedback or engage with you using social media. Businesses back then would have given an arm and 2 legs to have that feedback system.
Note: I will be assuming that you already created your official social properties here. If you haven't, then add an extra step here to your plan.
⓵ Account Optimization
With the official social accounts already created, you now have to start optimizing each of those pages to get the most from them.
You can get them to sign up to your newsletter on your Facebook page, you can sell to them on Pinterest, you can run a contest to get your brand's unique hashtag trending, and try many more creative ways to convert them.
Optimizing that social media property will open up doors for you to rank better within the social network's search engine, it can show up in Google Search and it can also help with credibility/trust/social proof to urge them to do a certain action you want.
Eventually, turning them into your brand's loyal & raving fans.
For this part of the marketing plan, you should create tasks that are specific to each social media property.
Note: Using networks like Snapchat can reap great rewards and so does chat apps like WhatsApp and Viber but for this part, I will be sticking with the more traditional social networks.
Here are some (not all, by a long shot) of the things you need to do to optimize your social pages:
Facebook: Be sure it's in the proper category. If it's a local business, then you need to choose the page category as a local business so you can put your address and contact details. People can review you from Facebook and much like with other review platforms, that builds credibility and sets you apart in Facebook search.
You need to fill up the whole details area of your page. Both long and short descriptions, the topic of the page and so on. Fill it up as much as possible and be sure to use keywords in there and in the title.
You will also need to get a vanity URL. Simply go to facebook.com/username and get a username you want to use across ALL your social accounts. This is important because you want people to remember your handle so they don't have to keep remembering the extra numbers or underscores that you use.
If you are running a public figure page, then you might like to take a look at verifying the actual page so Facebook can give it that verified "check" which helps with credibility even further.
One last thing, be sure to have created a "Page" and not a profile. I've seen a lot of businesses use profiles and ended up scrapping them after working on them for too long.
Google+: Pretty much the same things applies for the description/about page. Fill it up as completely as possible and make use of keywords strategically. Grab the vanity URL, verify the website and email. More info here about Google Plus.
Twitter: Add an extra link or mention in the bio. Make use of your location (for most businesses, this is very good) and be sure your bio has the keywords. Validate the Twitter card for your website much like Facebook, verify it with Twitter if you are handling an official account with a big following.
LinkedIN: LinkedIN pages can rank really well in Google search. You'll definitely have a different URL for your LinkedIN company page so don't worry about that one. Just optimize the whole page with as much information as possible.
Pinterest: Use a Pinterest business account, not a personal one. Add the description, get the vanity URL, verify the website and sprinkle in the keywords. Pro Tip: Add your main keyword or "what you do" in the name area. Regularly add new boards but for the first 4 boards, be sure to fill them up and select great cover images.
Instagram: As you probably signed up using your chosen username already on Instagram, you just need to fill up the profile description and link. Pro Tip: You can use a single redirect link instead of the official URL. That way, clicking the link brings the user to the latest post each time. Best for blogs or news sites.
Using the same logo across all networks can help brand recall but for certain networks, such as Instagram, changing the avatar  regularly to something current can help to improve the follower's experience.
Lastly, to further optimize internal search, post about topics your business is about.
⓶ Audience Research
Now, it's time to get started with audience research.
You have to treat each network differently. The users on Twitter are different from those on Google+ (and that goes for Facebook and other networks) so be sure to craft content that suits them.
Here's an example: Google+ users lean more on technical content. LinkedIN is more on professionals so appealing to them is totally different.
Do a quick survey for your current followers or check on your competitors and see what kind of followers they have. There are definitely tools that can help make it easier to check their followers, such as Followerwonk for Twitter but doing an estimate is good enough at the start.
Facebook gives you some data at least. It makes it easy to check your audience location and which posts worked better.
For the others, there are also tools that can analyze your posts across the networks such as Buffer.
⓷ Content + Optimization
Now that you know who you are catering to, then it'll be easier to create content that resonates with them.
To make the most of each of your posts, the general consensus is that the more visual the post is, the better… and it's generally true! There are studies that purely "text" posts are making a comeback nowadays since the public has been trained to visually screen through the noise on their feeds but it's still pretty subjective.
There are certain ways to make the most of each post you make. To maximize Twitter, doing it like this is one of the best ways to optimize your tweet. We have Google+ post tips here on what format will give you the best chance of getting attention. Facebook uses hashtags now but unlike other platforms, it still hasn't made good use of it.
There are a host of other social networks out there that businesses use. Ello and Tsu have been everywhere recently but some businesses are killing it with more established (albeit less-used) platforms, like Vine. You might be surprised as to what kind of businesses and niches use them.
Scheduling your content is another great feature that you can do on Facebook and with the help of 3rd party tools, you can do it on the other networks, too.
Analyze your stats regularly so you can see which post is working for which network and optimize from there.
Set a specific schedule on your plan as to when you will need to check out the data so you can further reach more people and not feel like you are just talking to yourself.
⓸ Ad Campaign
This is optional but you can kick things off by running an ad campaign on Facebook and Twitter. Google+'s ad platform is still not as good as these, but I'm sure it'll get there soon. LinkedIN also has an ad platform but use it only if it fits your niche. Other "networks" such as Reddit and StumbleUpon are great for content distribution so that might be something you'd like to try out later on.
Break these down into sub tasks for your social marketing plan. Target a budget, identify the audience, create your ads and test the headlines/images/offers.
For Facebook, you might want to test out sending direct traffic to your pre-sell pages/opt-in pages or send "likes" to your Facebook page. See what works better and optimize that.
Schedule the next time you want to check your campaigns and improve it again once you have the new data.
🔥 Resources
Bryan Harris on Kissmetrics? Good enough for me. Here are 4 great tips for you to use when using social media for your growing business.
Much like anyone, you're always short on time. Check these tips out from Buffer's Kevan Lee. Oh, and this one where he shows you how to craft the perfect social marketing plan for your brand.
My friend Erik is definitely spot on about his tips on faking social media signals.
Make use of visual stories when you are going to use social media.
Here's a cool guide on how you could structure a social media posting schedule for your business.
Email Marketing
😎 Retain your customers and keep in-touch with them.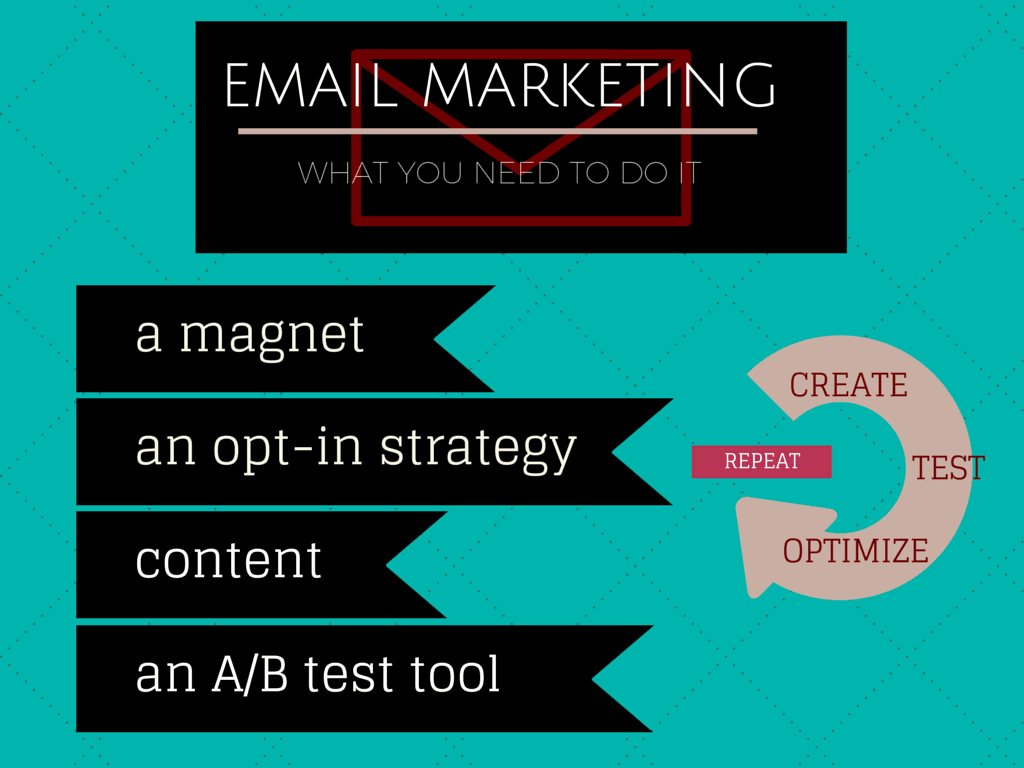 Email marketing is still the KING when it comes to promoting & keeping in-touch with your client-base.
Even today, with all the social media networks that people use and waste their time on, email is still the dominant way of communication and that's a fact.
If you are familiar with the term or the book, Permission Marketing, then there's nothing that embodies permission marketing today more than email marketing.
I'm not knocking the effectiveness of social media because it is pretty darn powerful, we all know that, but in terms of reaching customers directly and efficiently, email is worlds better and THAT is why you need to build that email list.
Note: I'll leave the part of signing up and setting up an autoresponder service to you.
⓵ Lead Magnet
Thanks to whoever coined this term. I would've just called it exclusive free content…
A lead magnet is basically something you can use to nudge the user to sign up. You get an email address in exchange for something. This can be a video course, an eBook, an email course, a product, a coupon, a pre-sell offer or anything that you can offer that can work with your product or service.
A great lead magnet will net you a lot of new subscribers per day. When pushed really hard with different opt-in strategies, then you'll practically get three times (or more) subscribers daily.
If you will be building a list, then you need to prioritize creating your "main" lead magnet early on. One good offer can last for several years so this is practically a one-time thing in many cases.
⓶ Opt-In Strategy
There are a lot of different ways you can get people to opt-in but one thing is for sure when you get to this stage of the plan, you need to make sure that you are going to invest time into making your opt-ins a priority on your website.
You've probably seen them all, from pop-ups, to those boxes that scroll up from the bottom, optin boxes on the sidebar or even the bar at the top of the page that follows you all the way down the page like we have here. (Look up!)
You can also lead the user to a "squeeze" page where you can further urge them to sign up.
Nowadays, there are a lot of bloggers that are using popup boxes that are specific to the content on the page. A service called LeadPages can handle this for you where they give you a code and you insert that as a link on your content. When someone clicks on it, a popup (they call it a Leadbox) shows up and nudges them to signup. It's pretty ingenious because they already took the initiative, which is to click and to find out more. That alone is super effective in converting people into subscribers. There are also other services/plugins out there that helps you create that popup box as well.
Decide on what you will use on your site and apply them. Once you get some data, then you can start changing them up to see what you will want to keep and what you will need to get rid of.
Note: You might be wondering about RSS feed email subscriptions. It's definitely a bonus but it's not something I would focus on because you don't really have their information and you'll be limited to just sending them emails about new posts.
⓷ Create Content
It's time for you to start creating content for your autoresponder series.
Once a person signs up, you want to send them a welcome email and in that email, you probably have the link or the file so they can get the offer they signed up for.
Now it's up to you on how you can build a relationship with them. Using an autoresponder series (these are basically emails you already set to go out every "x" number of days to him from the day he signs up) will help you cultivate that relationship in an almost automated way. That is one of the benefits of using autoresponders.
The content you create can be just tips, can be a link to your old post but since it's awesome, you can keep introducing it to your newer subscribers, it can be a chain of informational emails that builds up anticipation to a bigger offer at the end.
Newsletters, on the other hand are what you need to create regularly. These are emails that you will be sending out to your list, to inform them of your latest post, the month's latest news, the latest promo you have and so on.
If you can come up with a monthly series, like compiling the best articles around the web about your topic, then be sure that you can be consistent. Schedule when you will be sending out emails so you are organized.
It's better if the subscriber can expect something from you regularly. Keep in mind though that it's not cool to keep sending out daily, low quality emails. That will get you a lot of heat and your email address might end up getting blocked.
⓸ Testing + Optimization
For Emails: Your autoresponder will have an A/B test tool, as well as stats on each email you send out. That way you can see which emails get opened and which links are clicked on.  You can also link the autoresponder to your Google Analytics as well so make use of the extra data.
Change the length, make better email headlines, improve the content and link placements. See if images will be better or just using a plain text email will work out for the best. It's all up to you and how your market reacts to your emails so optimize from there.
For Opt-Ins: Much like emails, opt-in boxes (when using software or a service) will usually track their own stats. This way, you can run A/B tests to see which headline, description, image works best. Sometimes a minor change in the text within the "Sign Up" button can net you amazing results.
Your main pop-up box will definitely work best in terms of conversions so tweak that further. For the rest of the opt-in boxes you use, you need to see which are worth keeping. Having too much hurts the user's experience and that's something you don't want, especially when you are still building a name for yourself online.
Like I mentioned above about LeadBoxes, you can now try to build page-specific opt-ins to further boost your conversions. People call it "content upgrades" (thanks Brian) and all you need to do is to create a specific offer with a specific call to action on the page that your reader is on.
Let's say your content is about "Creating a Logo for a Startup" so as a content upgrade, you might want to create a PDF file with specific steps or a checklist. It can also be the whole post converted into a PDF file. Then you flash an offer or strategically place a button/link on the page telling them about it. It converts better because the reader is already "in-to" the content.
Create, test, optimize. Rinse & repeat.
🔥 Resources
I have to start with a link to Brian again. It's a damn fine resource on how and what list building strategies you can implement on your site. (See that? An exact anchor text link because I liked it so much.)
List building mistakes you might make on your blog.
You need that lead magnet or whatever you want to call it. Why not hook them in with a course?
If you want to see how an email campaign is done from a company whose business is about email, then this is the one you need to check out.
Oldie but goodie from SocialMouths about how important building your email list is.
My friends Carol and Don talk about choosing between social media or building an email list.
Conversion Rate Optimization
😎 What good is traffic if it doesn't convert?
Conversion rate optimization or CRO, is basically about maximizing the potential that each visitor brings to your website.
What I mean by conversion is that it can be about a signup to your email newsletter, it can be a contact form completion to become a lead for your service, it can be a purchase of your product, it can be a completed survey. It can be anything you want the visitor to take action on when they land on your site.
If you optimize for conversions, even small traffic can be better than a site with a tidal wave of traffic because at the end of the day, it's all about how you converted those eyeballs.
⓵ Analytics
As I discussed in the newsletter about preparing your site before executing the whole digital marketing plan, you should now bring up your analytics software. You should be able to see your goal conversions in there. Note: Facebook and Google Analytics can easily help you set up goals.
So check out your stats. Analyze the important things for you. Here's an example, if you want leads going to your contact page, then analyze the traffic funnel.
See where they come in (how you attract users) – where they drop off (where they close their tab or exits your site) – the amount of people that get to the contact page and the amount of people that fill up the form.
Knowing those, you'll see how you can test minor changes that could potentially lead them to the contact page better to convert them. Adding a call to action on the page where they come in, showing social proof on the contact page to urge them to take action and many other things can bring a 1% conversion to 50% therefore maximizing your traffic.
It's simple math. If you had 50 people come in and had a 50% conversion rate, then you got 25 leads. If you have 1000 people looking at your site and got 1% to contact you, then you are missing out!
Analyze your stats based on your actual visitors and the nature of your goal. Break down the important stats that you need to help that goal and then rely on the numbers to help you make wise changes.
⓶ Optimize & Test
Once you have your data, you need to optimize your whole funnel or flow that you want your visitors to take.
Little tweaks like adding images, adding buttons to instigate a call to action, sprinkle in subtle hints in the content or add a cliffhanger. Maybe even add a pre-sell page in-between, maybe give out a free offer, a pop-up that gives out a coupon, maybe?
There are a lot of things you can try out depending on the end goal. Be open and plan it out.
Test your changes for a certain period then keep it if it works.
⓷ Repeat
Keep in mind that everything you do is a test.
Take notes on the changes you make and keep optimizing your results based on your new data.
Conversion optimization seems easy but it is a bit tedious. It's an ongoing process so you need to keep testing.
For your plan, you need to set a schedule as to when you will analyze the data again to check how your tests went.
Then apply the tweaks and set the next schedule of when you will be analyzing again.
It's fun when you get to see your conversions shoot up so it's worth it, especially since that usually means a lot more money for you.
🔥 Resources
Richard Baxter is one of the top guys I look up to in this business and he made a great guide back then about CRO that is still relevant today.
Neil Patel made this CRO guide and it's clearly one of his best guides on the site.
Here are some great tips from Steven MacDonald that will stand the test of time.
Want to test your landing page further? Check this out.
On the visual side of things, here's a great example from the cool guys on StatusPage.Io
Putting It All Together
If you've subscribed to our email list, then you know what project management tool we use and always recommend.
If you have an internal project management system, you can apply it to that and have your team members help you. If you are going it alone, then you might want to insert it to your To-Do list app or however it is that you plan your projects.
Now that you have a plan with a list of tasks broken down to that point that you can do each one by one, we recommend using a productivity strategy that fits you, such as the GTD (Get Things Done #GTD) process, so you can focus on the tasks that you NEED to do.
All major categories can be started simultaneously but if you are just starting, then doing each major category one at a time is the best choice so you don't get overwhelmed.
Start with SEO, work on your On-Page SEO and then execute your Off-Page SEO plan. Allow yourself at least 6 months to see considerable results so you'd have a mindset to keep on going.
Remember, a lot of your competitors won't see results and stop within weeks or a couple months. You know better and that's why you'll succeed.
As you can see, having a plan gives totally different tasks a single purpose. This will focus all your efforts into building your visibility online and keep you on track. No wasted movements, no feeling of guilt because you didn't do enough.
For many, SEO alone is a handful and it's true… but if you craft your plan, set goals and keep working on it, you'll have a pretty good online digital marketing plan. If you follow-through, then you'll be reaping the rewards pretty soon.
Conclusion
😎 TL;DR
If you plan on succeeding online, you need a digital marketing plan. As they say, those who plan, plan to succeed.
The plan I showed above is just the tip of what can be done but doing the steps is enough to give you great all-around results and even dominate your current competition.
What happens when you finish each of those tasks? Then you need to continue improving them. Digital marketing is an ongoing battle. You just don't stop because you finished your tasks.
Your current competitors won't stop until they beat you. New competitors will pop up out of nowhere and try to steal some of your thunder. Big brands with a bias from Google will come aiming at your keywords. But they will continue to fail if you are ready for them.
Do the planning right, put in the time, and you are better equipped to deal with competitors.  You'll have a foundation so strong that it will take a lot of effort for them to catch up.
Once you get to this point, pat yourself on the back. Congratulations, you are the king of the hill.
Now it's time to go back, get ready and make an even better plan using the data you now have. A new battle will start soon and you need to prepare.
Take The Conversation Further
We'd love to hear from you about this article. Join the LeapFroggr Lead Generation Dojo!