Top 4 Digital Marketing News YOU Need To Know – June 2014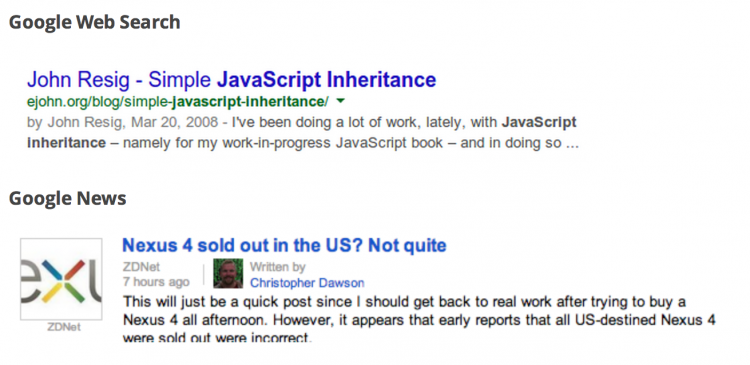 The month is almost done and it has been a pretty busy month both in terms of digital marketing changes and for us, as we recently started our transition to being a fully remote company. 
There has been some lesser known news like YouTube dropping their inbox for Google+, Google MyBusiness Integration, and Google launching the beta for their "domains" service but I'd like to keep this short so you can go and enjoy your weekend.
Here are but some of the highlights for me this month
1. Dropping Google Authorship Images from Search Results
I have to admit, this hurts. They can throw Panda and the upcoming new Penguin update at us but I'm more affected by this change.
We spent years getting people on board, educating them about it's importance and all so it really does suck for this to happen.
Here is what John Mueller said about the update and their reason for it:
This is now what it will look like in the SERPS.
The update has began rolling out and initial signs have started showing.
It begins: Authorship in Google search drops 10%, more to come. http://t.co/MNGC335GP7 via @mozcast pic.twitter.com/Lxnx2MWnLn

— Cyrus Shepard (@CyrusShepard) June 26, 2014
True, the authorship is still there and I don't see it ever going away but for those of us that did optimize (not personally, but for clients) – well, it feels like we wasted a "bit" of our time.
I have my own thoughts about this change and it's not related to any of the Adwords conspiracy stuff. Mark Traphagen just posted his thoughts about this and I think that just about sums up what I have in mind. 
Before moving to the next item, I just had to insert this awesome tweet from Jon Henshaw. #LOL
So my procrastination of optimizing my G+ profile image completely paid off! #winning http://t.co/E5dex5OYGk

— Jon Henshaw (@RavenJon) June 25, 2014
You can read more about it on their official page here.
2. Shiny New Facebook "Tools"
Well, technically, they are tools. Facebook just released options for multi-product ads AND retargeting for custom audiences. If you are marketing on Facebook, then you better check out at least, their retargeting feature.
This Chrome extension can also help you out. There's really no need for me to elaborate any further. Read more about it here.
3. Google Adwords Quality Score News?
Google released new info about the Adwords Quality Score. And that ancient video just got updated!
Who else should blog about it but Larry Kim? Check out his detailed breakdown here.
4. SEO Summit Philippines – The 1st of Many  (Local Scene News)
Let me get this out of the way first, I have been doing business online for 12 years and have been "directly" involved in this industry for around 6 years. 
Before I crossed over to real-world inbound marketing.
Before I did just white hat SEO (for clients)
Before content marketing was the "it" thing.
Before we started LeapFroggr
Before I stared participating in social media and blogging
I was rankin', bankin', tankin' and buildin' millions of links a day. 
For those new to this, you might prefer to call it the dark side of SEO.
Ever since the beginning, I've done my own tests, my own experiments, killed my own sites, ran 8 dedicated servers solely for Xrumer, clickjacked, doorways, link networks and every blackhat technique you can think of. I've done some things that my mom wouldn't really be proud of.
That's a lot of years of working and you know what?
I have never attended a single meetup of local SEO's (and marketers) nor networked or tried to research about them over those years.
I have to say that I am ashamed of that.
I only recently started to look at the local scene when we started hiring locally, which was a couple months ago.
There was a big event called SEO Secrets (or SEO Summit) and sadly, I missed it as I found out about it a tad late.
The speakers were, Jason Acidre, Benj Arriola and Sean Si. Each of their topics sounded wonderful.
I followed the event on Twitter (but nobody was live tweeting much) so I just read the blog posts here from Glen Dimaandal and here on SEO Hacker.
Looking at the photos and the video, it was definitely a huge success and I'm very happy for the local scene. 
There's a lot of talent here in the Philippines and it's getting better quality wise. Maybe in time, we can eventually shed the image of "cheap labor" and 1000 links for pennies.
I look forward to meeting everyone in a future event. 
Take The Conversation Further
We'd love to hear from you about this article. Join the LeapFroggr Lead Generation Dojo!