An Entrepreneur's Ultimate Guide to Blogging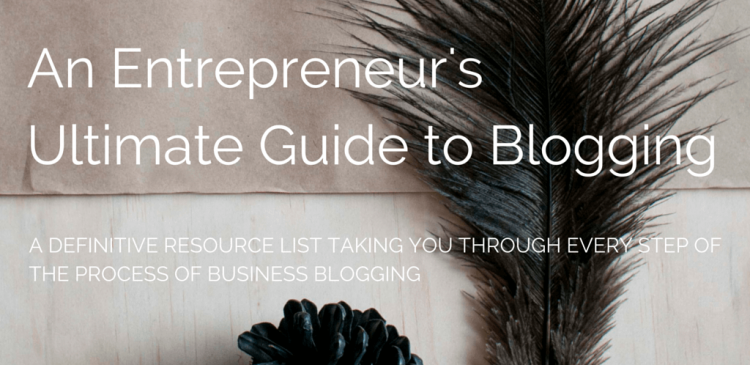 Want to add a blog to your entrepreneurial venture but not sure how to do it?
No worries, the answer's here. In this guide, you'll find all the resources and advice you need at every step of the process.
Each of the areas in this guide is dedicated to one aspect of blogging. Still, that doesn't mean you should take the areas as exclusive of each other. There's bound to be some overlap.
The resources also tend to be listed in the order in which they're recommended to be read. That doesn't mean you should observe that order: a recommendation isn't a rule. If you're a total beginner to all this stuff, though, the order will help a lot.
So then, let's get started!
1. Setting Up Your Blog
Generally, there are three important pieces of the blogging setup's puzzle: the domain, the hosting, and the platform.
The domain refers to your blog's future address, e.g. for us, it's "leapfroggr.com". Like physical addresses, Web addresses can affect a business's success.
Just as you try to open shop on a street where more of your potential customers are likely to pass through, you should try to get a domain where more visitors are likely to come over.
That means having a simple, easy-to-remember domain, among other things. It also means wisely thinking over questions such as whether you should use ".com", ".net", or ".org". You'll find out more later. (We recommend using NameCheap. We've been with them for years and we only get better and better deals. Their "private registration" is also nicely priced.)
Next is hosting. It's where a company specializing in this service gives your website space on its servers so that it can be seen on the Web.
Without a web host, your blog can never be seen online. With a bad web host, your site will often go offline. Choosing a good host is therefore crucial. Our web design service has this included.
Finally, there's the platform. This is a content management system that lets you turn your website into a working blog: WordPress is a popular example. In some cases, (as in WordPress) the platform comes with hosting, simplifying the matter.
You need all three of the above to begin blogging. They're also the sub-sections for this part of the guide. Just click on the sub-section you want to read from the list below if you don't want to follow the order. Clicking on the subsection "1.3. Platform" will take you to that subsection's resources instantly, for example. We use
Subsections:
1.1. Domain

How to Buy a Domain Name for Your Blog
This article by Mike Wallagher gives quick advice on choosing and registering a domain name. He also shows you briefly how to do it on HostGator, one of the best-known domain registrars (and web hosts, by the way).
5 Domain Name Suggestion Tools
Harsh Agrawal shows you 5 tools you can use to help you figure out the best domain name for your blog.
How to Pick a Great Domain Name for Your Blog?
Deepak Kanakaraju gives some great and practical tips here on how to choose a domain name for your blog. Note the "phone test" he mentions as a trial for seeing the viability of a blog's domain name.


1.2. Hosting

The Complete Bloggers' Guide to Web Hosting
Enumerated here are the criteria to use when looking for and choosing a web host. This also comes with an infographic on the pros and cons of the types of web hosting.
How To Choose The Right Web Host For Your Website?
This comes with a useful infographic on how to choose a web host.


1.3. Platform

The Epic Guide to Start a (Lovely) Blog on the Cheap – 01: Choose a Blogging Platform
This beautifully organized list of blogging platforms is a great resource for people starting out with little money to spare (sounds like most entrepreneurs, right?). It also discusses who should use free blogging platforms and paid ones, and also lists the pros and cons of each platform.
Best Blogging Platforms Compared
The most popular blogging platforms are discussed and weighed against each other here.
2. Content Creation
Once you have your blog's essentials set up, it's time for the content. This is the lifeblood of any blog, so due attention should be paid to it.
Being a good writer or content producer will do a lot for you here. That doesn't mean you shouldn't have other questions about the task even if you fulfill that first requirement.
Here are some of the important ones, for example:
Should you get someone else to write your blog's content for you when you're too busy for it?
How often should you schedule posts? Is there an ideal figure?
How long should your posts be for maximum effect?
What should you write about specifically within your niche in order to gain attention?
How can you make producing content (text, video, image, etc.) easier?
Here you'll discover some of the best resources for dealing with this part of blog creation and management. They'll cover everything from how to start blogging to how to make a content calendar, which is a schedule of your content, or a plan for it in the future.
Subsections:
2.1. Content Creation Tips

The Ultimate Guide to Content Marketing for Startups
This is a nicely concise yet meaty article on how to create content from Kevin Strasser. Pay attention to the section explaining how to use Buzzsumo—it's a great tool for any content creator with marketing in mind.
8 Must-Have Ingredients of a Successful Blog Post
Neil Patel delivers handy suggestions for structuring posts, enhancing value, and ideal post length.
Content Creation: 3 Reasons I Hate Your Business Blog
Knowing how NOT to do it is just as important as knowing how to do it. Here you get 3 of the top reasons business/entrepreneurial blogs fail to get much traction.
Quick Tips for Entrepreneurial Bloggers
A little disheartened by your first efforts? Darren Rowse, one of the best content creators online right now, provides some inspirational gems of advice to entrepreneurs while also demonstrating the merits of tools like slideshare for unconventional blog content presentation.

5 Reasons Your Blog Will Never Progress
Adrienne Smith gives you further insight here into 5 of the top reasons blogs don't succeed. Most of them are content-related, so take note of them before you start making your own content!
16 Rules of Blog Writing and Layout. Which Ones Are You Breaking?
Think you have an idea now of what you want to write and how to write about it? Wait and read these tips from Sue Anne Dunlevie before you begin. You'll learn about post formatting and why the smallest things like headers and sub-headers matter. (Side-note, though, that I have to politely disagree with the lovely Sue Anne on the italics point: because I'm totally guilty of using them, LOL! But seriously, I do think they can work well if you use them as they were always supposed to be used, which is sparingly.)
2.2. Content Creation Tools

Branded Video Content Cheat-sheet: A Marketer's Guide to 6 Top Platforms
Nowadays, multimedia blogging is the norm. In case you want to add videos to your other content, this article can help you figure out which platform would work best for branded videos to put on your blog.
The Ultimate List of Free Content Creation Tools & Resources
This list includes freelance writer websites that you can tap for ghostwriters to do your work when you're too tired to create a post.
18 Tools for Better Content Creation: Improve Your Writing with Less Effort
Having trouble hacking your headlines? Or maybe you have weak grammar? Here some tools are listed that can help with those and other content creation problems.
Ninja Guide to Content Creation: Top 10 Writing Tools
Here are 10 content tools they don't usually put in content creation tool lists, including a cliché finder (because we have to try and avoid them!), a hilarious idea generator, and an editor that tries to make you write like Hemingway (not necessarily as well, but with similar succinctness).
Best 5 Tips to Make Images Work for You
This is a fantastic infographic from Carol Amato that not only delivers tips on how to work with images and why you need alt text: it also gives you some free image sites and a suggestion for a tool that lets you check an image's uniqueness.
36 Visual Content Creation Tools the Pros Can't Live Without
Interested in creating visual content that can go over well on the social networks? While some of the tools mentioned here require more training to use (Photoshop, for instance), others are very user-friendly (like Pinterest and Canva).
17 Amazing Sites With Breathtaking Free Stock Photos
It's generally best to use your own photos and thus start building your brand on your blog, but as an entrepreneur, you'll probably be pressed for the resources to produce those. Until you can do that, lists like these give you great suggestions on where to look for free images to accompany your text.
Another resource for finding free images.
Free Stock Photos: 74 Best Sites To Find Awesome Free Images
An enormous resource for finding yet more free images.
Content Marketing Tools: The Ultimate List
This technically slides into the next topic already, but we're putting it here. This is one of the best regularly-updated content marketing tools lists out there. If you have an idea of what type of content creation tool you want, you can try jumping to it using the search function in your browser. Try typing these in the search, for instance: "Audio Creation Tools", "eBook Creation Tools", or "Sources for Content Creation" (outsourced content creators).
33 Essential Tools & Software for Content Creators
Another list of tools you can try to help you with your content production, from research tools to content curation tools.


2.3. Content Calendar

4 Steps to an Awesome Content Calendar (and 6 Things You Need on It)
It helps if you start your blogging in an organized way, and a content calendar helps with that. Here you learn what a content calendar is, why you need it, and how to make one.
The Complete Guide to Choosing a Content Calendar
Buffer's Kevan Lee takes you through the steps of choosing and structuring your content calendar for your blog. It's slightly more thorough than the previous resource, but if you've already read that, you'll understand this.
3. Marketing
Is your content ready and published? Now you have to start marketing. There's no point in having great content on your blog if you can't make sure others see it.
This area covers a broad range of topics from SEO (search engine optimization) to social media marketing. The basic goal of all the techniques in this section is to promote your blog.
Later on you may have secondary goals, like selling your products through marketing and exposure. That said, for any of those to be possible, the primary goal (promoting the blog so others see it) has to be fulfilled first.
It's worth mentioning at this point that while all the techniques given here are for online marketers, there's nothing to prevent you marketing your blog through traditional channels too. Still, we won't cover those possibilities here.
Subsections:
3.6. Others (Strategies with case studies, tips, etc.)


3.1. SEO
SEO scares a lot of people. Don't let it scare you. This Moz guide is one of the best introductions you'll ever get to it and the simple fact is that if you want the blog to have a chance of being successful, you're going to need to read it. You can outsource SEO, yes, but it's still recommended to learn it even then.
19 Search Engine Optimization Tips for Entrepreneurs
Mike Allton of SiteSell delivers 19 easy-to-practice tips for entrepreneurs, including simple, clear-cut notes on keywords in posts.

Checkout our very own SEO checklist. I'm sure you'll find it useful like the thousands of others that have downloaded it and printed it out!
3.2. Content Marketing

The Advanced Guide to Content Marketing
Generally speaking, an entrepreneur's blog is going to be an exercise in content marketing. Neil Patel is one of the more prolific and popular content creators in this area, so this guide is coming from someone very experienced.


3.3. SOCIAL MEDIA MARKETING

The Beginner's Guide to Social Media
Moz's guide to social media talks specifically about its value for businesses and shows you how you can use it to help yourself by (among other things) marketing your brand and blog.
7 Untapped Social Media Tactics For Smart Bloggers
This lists some great tips for bloggers starting to use social media for their marketing strategy.
The Guide To Using Multiple Blogging Platforms In Your Content Strategy
Brian Honigman gives concise tips on marketing blog posts through social media and modifying content for each medium.


3.4. Email Marketing

A Beginner's Guide to Successful Email Marketing
Email marketing is an important part of blog marketing. Here you can get a quick and easy introductory guide to it.
The Ultimate Guide To Successful Email Marketing
Want to go a little more in-depth on email marketing? Here's another resource to get you building your email list right away.
How to Engage Your Email Subscribers From the Moment They Sign Up (Infographic)
This infographic gives you quick tips for email marketing in a visual format. Note the graphics showing words that trigger spam filters and words that are known to increase conversions.
The 6 Fixings You Need to Brand Your Emails
Your email marketing will be for nothing if you can't brand it right. Here branding maven Andrea Beltrami takes you through the things you need for that, from your logo to even your newsletter's color palette.
Experts Weigh In: 21 Email Marketing Mistakes to Avoid
Starting to get into your email marketing? Keep these mistakes in mind so that you can avoid them.


3.5. TOOLS + GOOGLE ANALYTICS

The Absolute Beginner's Guide to Google Analytics
At some point, you want to know if your marketing is working, usually by tracking traffic and visitor activity on your blog. Google Analytics does that for you. This is a great resource for practically everything the beginner needs to know about that tool.
The 100 Best Free SEO Tools & Resources for Every Challenge – Interactive
Another amazing tool list, this time from Moz. You can choose what tasks you want a tool to do at the checkbox at the top. This will filter the tools that appear in the list.
Annie Cushing's Must-Have Tools
You may not understand everything in here at first, especially if you're new to SEO, but it's a killer list to have as you learn how to work on the Web. It not only notes the tasks which tools are best used for but also whether or not they're free, and there's even a page for infographic submission sites—if infographics are part of your content marketing for the blog.


3.6. Others

Brian Dean's Skyscraper Technique
Brian Dean's site is full of amazing advice for marketers and bloggers. This is one of his best posts for you (try to read the SEO guides/intros to beginners among the previous resources first, though, or this might throw you for a loop). This is also worth a read.
How to Promote Your Blog Content: 40+ Experts Share Marketing Tips
It may be from last year, but a lot of expert advice here is still highly actionable.
Kristi Hines breaks down the steps to starting a good business blog swiftly and succinctly in this piece, framing them as elements in the creation of any successful blog. She touches on SEO and marketing-related concepts in the process.
The 7 Invincible Laws of Business Blogging Success
This is actually also the title to Don Purdum's ebook, but in this post he gives you an insightful and helpful preview as to the contents of that book. Even taken without the ebook on which it's based, this list of business blogging laws (which are tips in their own right) can help you a lot as you get started.
Also: Other Great Resources
The Resources Page of Jeff Bullas's Site
Jeff Bullas has long been acknowledged one of the top content marketers alive. The numbers speak for themselves: more than 5 million page views annually, more than 320,000 Twitter followers, and regular inclusions in lists of top marketing influencers.
The Resources page of his website outlines the process of starting a blog step by step, from registering the domain to inspirational/helpful additional literature recommendations.
Problogger is a great place to get useful blog tips. You can also find categories for the tips at the bottom of the homepage. It's a mixed bag difficulty-wise, though, so you might find yourself drowning in jargon you don't understand unless you cover the preceding resources first.
Buffer has a lot of great articles on for bloggers, although (like the articles on Problogger) most of them do require some familiarity with the fundamentals the previous sections discussed. Try this article on hacks for increasing your subscriber rate and this guide to writing headlines in particular.
---
I wanted to do something different this time around, instead of the usual article. I've met a lot of amazing bloggers over the past year and it's time I give back to pay my respect to their work.
If you find this useful, please share this to fellow entrepreneurs that you know that are just starting out with their businesses.
Take The Conversation Further
We'd love to hear from you about this article. Join the LeapFroggr Lead Generation Dojo!