Is Google Authorship Still Around?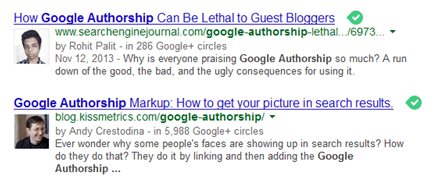 Before you say, "Hey stupid. They already removed that!"
NO, we're not going to tell you how you can add authorship codes to your articles for this outdated practice.
Instead, we're going to talk about why it was an important "experiment" and how it's contribution to Author Rank can lead to it being a part of the Google algorithm.
We preached about Google Authorship for years and to suddenly take that away? That's a lot of wasted energy!
But you know what? They probably DID get something out of that experiment which is probably partly implemented or in the plans, but let's talk about that later.
There are obviously a LOT of conspiracies out there. Some say the results with author images took away Adword clicks, which makes sense but let's just stick with John Mueller's reason, for now.
For those that are new to SEO and do not understand what Google Authorship was, here's the gist. For those that already used and removed it, skip this part and head over to the next sub topic.
What Is (Was?) Google Authorship?
Whether you're setting up a company website or just writing an article for your business, I'm sure that you'd want your content to be original. As much as possible, you may want to generate all the content by yourself. There are plenty of benefits to doing this. First of all, there's less risk that you would be charged with plagiarism, and in the online world, you won't have to worry about privacy and copyright infringement issues.
Another benefit to being the sole contributor of content for your business website is that you have what's known as authorship. This means that everything you've done, from text to video to audio, all those things are yours. If anybody uses these things without your permission, then that would already be a breach on your rights as the author. Authorship is ownership.
Before Google Authorship, Google patented a tool called Agent Rank, also known as Author Rank, which basically gives higher SERP rankings to content "experts". That rank is affected by many factors, such as the following:
use of Google Authorship
amount of content that an author has created
the number and quality of sites where the content is posted
If you're curious as to what your current Author Rank is, you can use a tool like this one. It's still pretty theoretical since Author Rank was never really introduced officially.
The previous problem that Google encountered with Agent Rank was that it's all too easy to claim that you're an expert online.  So, Google changed its algorithms and designed Google+, which would allow them to get to know these authors and find out just how credible they were. Integrating Google+ and Agent Rank paved the way for Google Authorship.
Google Authorship is defined as showing your ownership of content in the Google SERPs. Before, aside from the page title, the URL of the website, and the meta descriptions, a listing that had authorship would be accompanied by the name and the profile picture of the author, also known as rich snippets, as seen below:
To make it really simple to understand, Google Authorship is different from Author Rank. Authorship is the physical thing, the photo, the link back to Google+, the whole visual thing. Author Rank, is like PageRank for Authors so it's basically an algorithm to calculate all your mentions, engagement, content and everything that would contribute to you being an expert. To read more about the differences, check out this Authorship/Author Rank article from Ana. It will probably answer most your questions.
However, as of June 25, 2014, John Mueller of Google made the announcement that Google authors' photos and Google+ circle counts will no longer appear on the search engines. Instead, the listing will only show the clickable author's name. This was so that the results would appear cleaner and consistent design-wise when viewed from both desktop and mobile.
Of course, authorship is more than having rich snippets adorn your listings. More than anything else, it's about establishing your credibility as a content author and thought leader in your field. Regularly coming up with original and high-quality content is favored by search engines, and once you've also established your authorship in Google, Google could possibly see you as an expert, and your website's ranking might increase because of that.
What a noble and creative idea, right?
Not As Much As We Thought
There are a lot of reasons and theories out there. From "Google+ is dying" to how big a failure authorship adoption was.
Here are some other articles that you might find interesting:
Google Authorship – the 3 reasons why it failed by David Leonhardt
The Real Reason Google Plus Authorship Photos Are Gone by Larry Kim
Google Calls Takebacks on Authorship Photos: An Alternate Theory by Elisa Gabbert
But Is The Whole Idea of Authorship Really Dead?
We know we have pushed business owners like you to implement authorship for the past couple years. Your sites benefited from it but now you might be thinking that you wasted your time building that author profile.
We lack the facts and exact details, but Author rank is probably living on. That's actually what I would naturally conclude after seeing Google officially announce the death of Authorship.
We won't really get definite info on this matter right now so all we could do is to continue to follow the new changes they implement (in-depth articles, patents, etc) and the signs point to yes, it's still there somewhere but probably not as a ranking signal yet. (Note: I am not counting the Google+ posts that show up in your personalized search results.)
They also built Google+ for a reason. They won't let go of an investment like this without getting something in return. They won't necessarily need those author photos to show up in the SERPs to gather data about authors/entities.
Also, your Google+ About page still has the "Contributor to" area – maybe for a reason… or maybe they just forgot about it. Everyone's busy nowadays, even Google.
So is Google Authorship really dead? Buried? Scrapped? Like what Ana Hoffman mentioned in the comments below, Google Authorship is really dead.
Was it just an experiment then? It probably was and they probably got what they wanted out of it.
On a side note: How about the Rel=Publisher code? Did they forget about that as well? Or are they planning to actually use this in the future? Maybe something big for brands? Patents point to yes but we all know not all patents will be used.
Could We See Google Authorship Again In The Future?

The idea of authorship when it started was noble and strategic. As a bonus, it could also have been used as a ranking signal back then, who knows.
We know that Matt Cutts said:
"We are doing a better job of detecting when someone is sort of an authority in a specific space. It could be medical, it could be travel, whatever. And trying to makes sure that those rank a little more highly, if you are some sort of authority or a site that, according to the algorithms, we think might be a little bit more appropriate for users."
That tells me that they can already "see" authors and that it's possible that they have collected enough data to know patterns of real authors. Where an author hangs out, where he writes on, where he engages and how to identify if the author is the owner of the content on a page.
Could we see authorship bounce back again next time with a different form? Maybe.
That's one of their goals anyway. Who knows, we might finally have THAT single digital signature we'll need for all our content some day.
I really hope they succeed. I'm excited to see them pull it off.
Eventually, maybe they can cross implement everything some years from now. Looking at their new patents, they will be able to play with a lot of new tech and could include even podcasts under a single digital signature.
My take? Keep writing and creating. Keep creating great content that people will love and care about. Content that will qualify you to be an author. Odds are, Google will know about it and you will be rewarded.
Where is this headed? Will they bring it back in another form? Was it a complete failure? What are they going to do with rel=publisher? Do you think we're close to seeing that elusive digital signature? 
I'd love to hear your thoughts about this. Join me in the comments area below.
Take The Conversation Further
We'd love to hear from you about this article. Join the LeapFroggr Lead Generation Dojo!