My Go-to Link Building Strategy That Skyrockets Websites to the Moon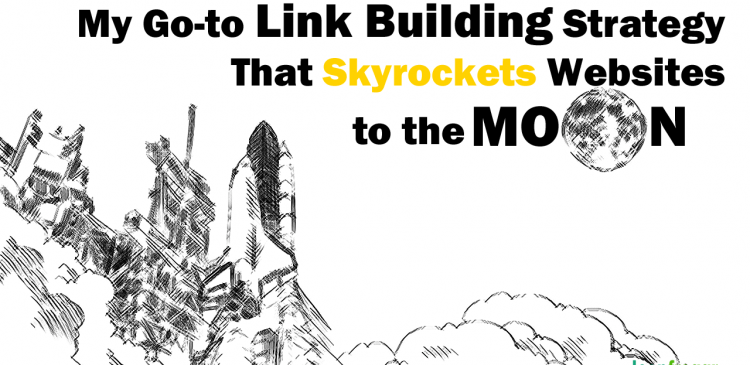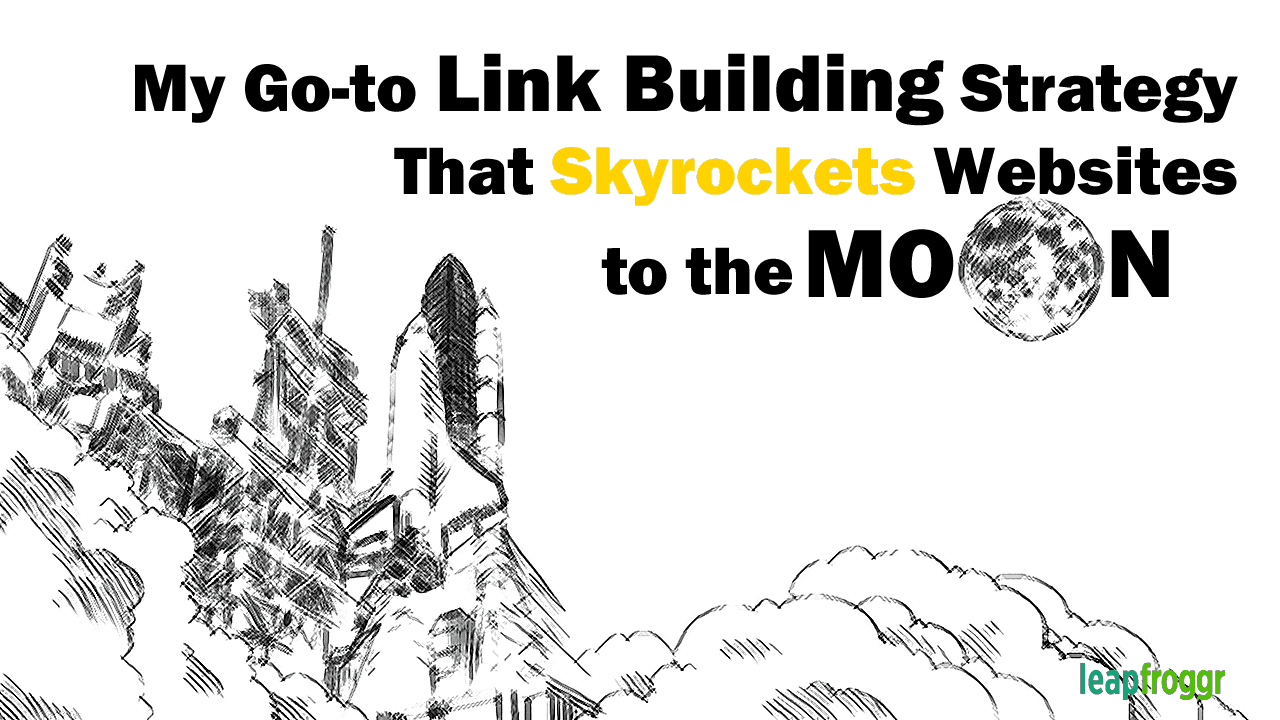 Well, not entirely, but it does get the job done.
Anyway, let's get started with this article.
There are a TON of ways to get backlinks. We all know that it's true. We just tend to limit ourselves into thinking that there are only a couple ways to get links.
I could name at least 30 ways right off the bat to acquire good and natural links. I used to make 2 million links per day back then. I learned about the different things that work and don't work like that.
I guess that I learned things the hard way over the years. Let's just say that I failed more often than I succeeded, which isn't really something to be proud of.  But the cool thing about going through all those aches and pains is that you end up a bit wiser in the end.
One of the things I learned during the journey is that link building is not just a strategy to increase rankings, it's also a result and looking at it like that will open your eyes to more efficient ways to build backlinks.
That leads me to today's topic, which is my favorite link building strategy.
It's a "strategy" that brings in results and can be executed in different ways.
What I'm talking about is taking existing content and coming up with something better, totally new or totally useful.
Yup, that's it. Totally original and groundbreaking…woot!
Oh no (sarcasm) — before you freak out, go crazy and call Brian Dean's home phone number, let me explain.
As SEO's, we've all been doing something similar for years and Brian's Skyscraper Technique took it to the mainstream because it's just really damn good. I'm a big fan/advocate of his!
What I'm talking about today is actually doing other variations of that technique.
Techniques that will lead to us getting links as a result…because that's what we do and what we need!
Let's get started:
Skyscraper Technique
Here you go! I have to start this list off with Brian's article.
Basically, you collect ranking pages for your keywords, find the best performing ones, create something tons better and ask the people that linked to the so-so posts to link to you.
For example:
This is a weak example so I apologize, but I really wanted a link from the AHrefs blog.

I didn't really care how I got it nor what kind of link it would be, so I wrote about a topic that I knew that they would like and something that I know would be better than many of the pieces they linked to. So I created my "7 Actionable Search Engine Optimization Strategies You Can Do Today" post.

We reached out and bam! A backlink!

It's not totally, ultra-awesome like how Brian did it, but that's essentially it.
You definitely have to check out his post to better understand and learn. I won't be messing with his technique here.
Go to his post and learn from him! His process is way better.
Read everything about the Skyscraper Technique here.
---
Comment Scouting
I'd like to patent this term LOL.
Basically, I would look at my own comments area or the other popular articles in my niche or those ranking for my target keywords and build content around the suggestions or "pains" of the people commenting there.
I would also look specifically at comments areas of big bloggers that have over 50 comments. Those with 200+ comments are practically goldmines. You'll get a ton of content ideas from them. Blogs like Pat's or Neil Patel's are great examples.
For example:
Looking at the comments area alone in Brian's Skycraper Technique post, I could come up with a couple topics that I could surely do.

One of them is that I could create a tutorial of the Skyscraper Technique (fanboys, please don't hate, it's just an example) but apply it to a smaller scale, maybe to a niche that I'm working on that is not in the marketing space where there are fewer bloggers.

At the end, since these commenters have blogs, they will probably be willing to link to me 95% of the time. Plus, they would share it and continue to be subscribers. I could also reach out to other commenters there as they were already interested in Brian's content.
I could also beg Brian to send out the post as supplementary content to his email list. Won't hurt to try, right?
I'll be coming out with a complete step-by-step post about this technique, so if you want it, please subscribe to my newsletter if you haven't yet.
---
Create Usable Tools, Content or Products Based on a Process
You will have influencers in your niche. This is especially good in more technical niches where influencers like sharing processes on their blogs.
You can do a lot of things that can be useful… from Chrome extensions, to Excel plugins, to Google Docs, to Photoshop Scripts, Adobe Lightroom pre-sets and more!
For more niche topics, you might want to search for "common" phrases that people love to say, which will show you a lot of weird things, but there are some gold there if you look hard enough.
For example:

Quick example, when I think of things or features I want, I always say "How I wish" so why not use that in a search query to find people that might have the same habit?

Let's say I'm blogging about blogging and one of the things people wish for are plugins. I just enter this in Google:

"How I Wish" plugin blogging

I automatically look at the bolded words and they led me to this one.

I didn't look into that link, but let's just assume that I could create a blog post about all those iThemes books linking to their resources. Contact iThemes and the guy asking for that (and other on the comments area) and I'll probably get some good links. If I optimized that, I could even get some long tail variations for iThemes-related keywords.
Sometimes, you might get forums, Q&A websites and other UGC sites. It's pretty neat.
You'd be amazed by the gold you can find.
I've gotten some of the best links ever by doing this, even got .gov and .edu links without resorting to hacking or begging. *wink
Try your own take on this and let me know how it goes in the comments area below! I'd love to hear your own ideas!
---
Extended Content Upgrades
Do not limit your imagination when it comes to content upgrades.
They don't have to be just "opt-in" lead magnets to build your list.
A content upgrade can be anything, much like plugins or tools but it can also be slideshare decks, an FAQ board on Pinterest, heck, maybe even a PDF or checklist version of the blog post.
Instead of just creating it for your own content, create the content upgrade for someone else.
This sounds freaking stupid at first… but outside our marketing space, you'll rarely meet people that know what a content upgrade is.
For example:

Say I run a local training business or maybe I have a personal brand that does speaking gigs aimed at entrepreneurs with a blog about that.

The E-Myth, is a book that I've loved since the end of my high school life. I'm not the only one that likes this in the world. In fact, there are a ton of people that love it and even created their blogs around it.

Since you've been in the Internet marketing space for a while, you probably know techniques that these bloggers aren't applying.

I could basically create a PDF check list, maybe a detailed Google Spreadsheet they can copy and use, I could do a video testimonial to tell people how I applied this, I could create a video course (if the target site is big enough) or even just a book summary in-order to "bait" their reader to buy from their Amazon affiliate link.
The blogger you reach out to (in a creative way) can use this as their lead magnet. They can use this as a complete giveaway, run contests, whatever. Then you get a credit somewhere on the page.
This can be a WIN in a lot of ways because you get to start building a relationship. A lot of new doors open with that bridge being built.
---
Find Places to Guest Post On (with a Twist)
This is actually pretty easy. For a lot of blogs that already accept guest posts, you should check their archives and suggest an update to their old content.
In this day and age of SEO, you do not want to be housing thin content.  Outdated content too is bad since it's not useful or relevant to users. So with someone offering free content to improve their old content, then it's hard to get turned down.
For example:
We all know that ProBlogger is publishing a lot of guest posts. You could start by looking at their archives or searching for something directly on Google. Something that has undergone changes recently, maybe using something like "problogger.net google+" because Google+ has gone through some changes over the years.
I could create an updated Google+ guide that connects all the older posts to the new one and pitch that to them. Obviously, you still have to write something that will fit their audience so don't forget the basics.
---
Follow the Author's Bread Crumbs
This isn't really a standalone technique like the ones above are.
You should use this as a starting point to apply the techniques mentioned above.
Just look for authors. You can screen the people you follow on Twitter or list your personal favorites, then do the following.
Use inpostauthor:"his/her name" in Google
Use BuzzSumo and enter their name
Enter their social media profile into your chosen backlink checker
Once you have a list of URLs with their content, see if you can apply any of the techniques above or do something more creative.
Just keep to the core principle of this strategy, which is to be an add-on, be helpful or create something better.
---
That's it! It's a bit shorter than my past posts but I think I shared enough here that can help even the newest of sites in the smallest of niches.
I've done and applied all of these myself on different niches so they are all definitely possible. I even got a link from an NBA player's blog right besides the biggest sports websites with a slight modification in the technique.
Hope you guys learned a thing or two today to help your SEO improve further.
If you liked it, please share this out and if you still haven't, take a minute to sign up for my newsletter.
Oh, one last thing. I'd love to hear your ideas on variations about these techniques. I'm always open to learning more ways to get THAT link. Let me know in the comments area below!
Take The Conversation Further
We'd love to hear from you about this article. Join the LeapFroggr Lead Generation Dojo!