Here's How Social Media Affects Your SEO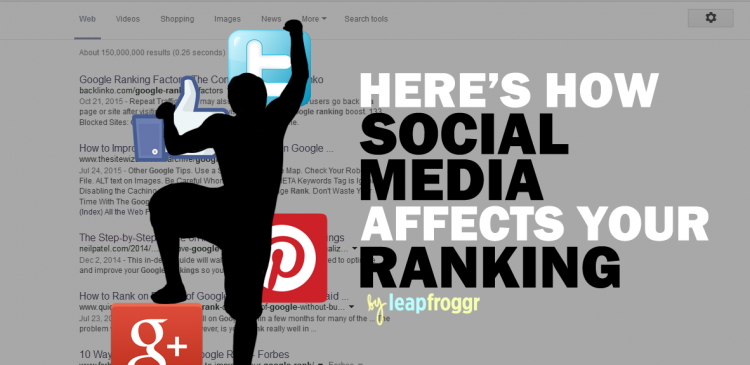 We hear a lot of confusing things about SEO nowadays.
Here's the problem, in brief: there's more crap now than ever before.
It accumulates and somehow multiplies.  Old articles still float around that aren't applicable anymore.  Outdated eBooks that are still considered "epic" resources.  Forums with people still preaching the same things from 8 years ago.  Old courses on Clickbank (and other affiliate networks) that are still being pushed by affiliate marketers to those new to Internet marketing.
I talk to a lot of my readers and in most cases where we do discuss SEO, I'm shocked to hear about the myths that they actually think are true because some guru said it.  Why did the guru say it, is what I want to hear next.  And of course, when he said it, because that matters just as much in this age.
Still, I totally understand how easy it is to fall into these traps.  Because it's not you, really: it's the Internet!
It's not your fault!
I came from the same place. I had to learn most of it on my own.
Trials and errors, getting penalty after penalty.
I had to test things and work my way up to know what I know today about SEO.  Let me tell you: a lot of what I know now isn't what I initially believed.  All those myths, like I said.  Those claims floating around the space.
Today's post is about one of the most common of these claims nowadays. It's about the statement that SEO isn't really affected by social shares.
I call baloney.
Here's why…
The Truth About The Impact of Social Media as a Major "Ranking Factor"
I'm sure a lot of people will refer to Matt Cutt's video about how it isn't part of the ranking algorithm.
Well, remember what I said earlier about how there's different pieces of content out there that can cause confusion? Check out this next video, for example.
Yeah, besides Matt looking younger in that video (darn employers overworking him), he practically said what seems to be the opposite from the first video, even if it's some years apart.
Both of these videos are still floating around the webspace.  That's why a lot of people are confused about SEO facts.
Some see the new video, some see the old one. Some see both. Include the other stuff you see when you search in Google…
Confusion ensues.
I remember seeing a post by Brent Carnduff back then. He said something along the lines of this:
"Search is rarely cut and dry, but this (topic) seems to be especially confusing and misunderstood."
What he said is damn true. This is really one of those things that keeps on getting debated.
So, let's put it to rest today. I want to make things crystal clear. Let's get this out of the way already:
Social media shares, be they Tweets, Likes, +1's, or Pins are NOT part of the ranking algorithm.
But it doesn't mean that social media sharing won't affect your rankings.
Actually, it has very good and pretty obvious indirect effects.
To explain why, let's start with this: as you probably know, SEO is still link-reliant.  We can optimize up to a certain point, but the rest of the way, it's mostly powered by links. That's why we still obsess over link building,  how to do it and how not to do it.
But nowadays, "engagement" is also a major factor and we've gotten more advanced over time in terms of tracking factors for it.
That's a change.  Things are still changing.  The climate is getting wonky, same-sex marriages are now allowed and Bruce Jenner is suddenly revered after all those years of people crapping about him on the show. (I'm P.C.!)
And social media? It will just keep blowing up and keep on getting bigger.  It's simply impossible to ignore it, even if you are a billion-dollar company like Google.
"Engagement" is the name of the game nowadays.
In most modern search engines, engagement already plays a big factor.
Heck, Facebook wants you to use them as a search engine now and they rely on engagement heavily. Ever wondered why nobody sees your posts on your Facebook Page or those from your own Facebook profile? Now you know.
On your webpage, you always want people to take action, right?
People can click on a link to your other pages, they can leave a comment and yes, they can share the link to their feed.
That's engagement we're talking about and it's why social media shares can (indirectly) help your rankings.  Social media signals can give search engines useful real-time data because we all know that Google can crawl them by now.  The search engine can see the "engagement" on your page based on those shares, which I know & believe is a factor of a sort.
Let me make that clear: it's used as a signal and NOT as a direct ranking factor.
But how about those who fake their social shares, you might ask.  Wouldn't what they're doing diminish the value of the social share as a signal to the search engine providers?
Well, I'm pretty sure they already have filters to deal with that possibility. It's relatively easy to identify spam accounts and shares today.  With Twitter being integrated with Google again, I'm pretty sure that they also have more accurate data than they ever did ("more accurate", not "perfect"!).
If you still aren't sold, then you can at least believe that social media sharing can indirectly affect rankings, right?
What's the other big "indirect" effect? Of course, it's about the links.
The more people share your content, the higher the chance your content will get seen by the right people that can eventually link to you.
It's also a great indication of success that helps your chances on getting your content republished on the big sites that can send you tons of traffic and even more links.
A Quick Experiment
"Hey, Dennis, you're just spewing out a bunch o' crap. You can't prove any of these."
Yeah, no matter what I do, it'll probably lead to another causation vs correlation debate so nobody can really "win"… unless Google actually comes out and admits it (again).  I won't take my chances with that, though.
So let's tackle the following:
Social Signals as a direct ranking factor
Social Signals as an indirect ranking factor
Social Signals as a Direct Ranking Factor?
Here's something I know most of us can agree with: Facebook Likes and Twitter Tweets are practically useless compared to the weight of shares, replies and comments.
Why? Simply because the latter are harder to get and are more valuable. They also lead to better engagement, which can lead to acquiring good links.
But how about the Google +1? Well, it's the one that's always disputed.  A lot of people truly believe this is the social media signal most likely to affect SEO, but at the same time, even more people think that the network's dead and have pretty much given up on it. Where's the value in that?
Honestly, I can't argue with the latter position.
It is pretty much dead at this point for a lot of markets (no flaming please) since I can literally see people dropping off everyday. I admire the cool people, like Ana from TGC, who have stuck with it through good times and the bad. They are the reasons I will stick around in Google+. There's still a glimmer of hope since it's the closest alternative we have to Facebook and I like their new direction.
Anyway, I've built a following there by dedicating time to it, more than all my other social profiles combined. So, I think I'm qualified to at least talk about it somehow.
One reason a lot of business owners/marketers still use it today is because they believe that "plussing" is a DIRECT ranking factor.
My take? It was, for a short while.
I experimented with it often back then, solely sharing my posts and getting +1's from others. Those with more +1's increased their rankings for a brief time.
Today, with all the changes they've done, and with fewer and fewer results connected to G+ being shown in the SERPS, I haven't seen anything that will tell me that it's even a factor. One thing I really wanted to keep from Google+ was authorship and I know it was a factor for rankings, but I guess they have a better way of tracking it now. Though it's officially "removed", you should continue to keep the authorship snippet in there, though, (Google's Garry Illyes said so).
Going back, for the sake of "testing", I singled out one of my posts, the SEO checklist post, from some months ago and focused on getting social shares for it. We did outreach for the first 2 months to get those shares.
I also grabbed 3 other posts that targeted easier keywords for the sake of testing purely social shares on, with nothing else to follow.
I tested each page for Tweets/Likes/+1's/Pins for rankings, indexation and crawl rate.
Note that we did NOT do any link outreach or link building on them. It was all for social shares for the 2 months in the experiment. (To those that participated, thank you so much for sharing them on your social media feeds.)
Result: The SEO checklist was ranking at #21 only 20 days after its release. The other 3 posts barely moved, and 2 were still not showing up at all for target keywords. They were all practically even in terms of social shares after 4 days.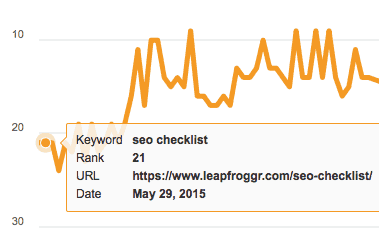 The differences between them were that the SEO checklist post got more engagement on the page, more "natural" shares from new visitors as influencers continued to share it over the next couple of weeks and it just flowed more naturally, almost in a "viral" pattern.
SEO Checklist: Never Forget Anything About SEO Ever Again https://t.co/mQmU9tYRuC vía @leapfroggr

— Aleyda Solis (@aleyda) May 13, 2015
Besides the SEO checklist post, the others did not gain any sort of traction, though they got pretty good numbers for social shares.
This supports the contention that Social Share Signals are NOT a direct ranking factor.
Obviously, the actual content and its type will still have effects on how something is shared.  However, for this test, I wanted to see if purely social signals could move moderately competitive keywords.
Social Signals as an Indirect Ranking Factor
We saw that we got results with the SEO checklist post in our experiment.
We focused on highly relevant people and companies, then branched out to bloggers in the space.  At the end of 2 months, we got 37 referring domains to it even before we started reaching out for backlinks using some of our go-to link building strategies.  We got offers for reposting our content, we got cited, we got linked to from some really great and relevant sites.
Bottom line is this: we got free links!
Result: We got to page 2 for a competitive keyword. Indirect effect? Definitely. Social Signals have an indirect ranking factor when used right.
One of my fav SEO's out there, AJ Kohn, said this in his blog post:
"It's not the actual social activity that matters, but what happens as a result of that activity. One of the best things that can happen is if your content is seen by creators, the 1% of users who create all the content floating around the Internet."
Couldn't have said it better myself.
You need to get in front of those content creators to increase your chances of getting links.  It just so happens that one of the easiest ways to get in front of others now is to get on social media.
Takeaways and Actionable Steps
Social Signals do NOT directly affect your search rankings. Stop worrying about getting as many likes & tweets as possible from anybody you can get ahold of. Do not buy Tweets, Likes, Pins and +1's, because they won't return your investment appreciably.
Social Signals DO affect your search rankings indirectly. Focus instead on getting in front of those with audiences that have "content creators" so you can increase your potential for links.
Actionable Steps:
Create content that's better than the most successful one currently out there. Use a tool like BuzzSumo or just Google your keyword and see what's out there. Take notes and come up with a strategy on what type of content works already and do it better.
Do outreach work – AKA, promote your content. Reach out to people. Most of them won't bite! Kidding aside, people are naturally helpful and will usually do one of these things: share it, link to it or both. Plus you have a new potential relationship that you can build on. It's a Win-Win for you.
Focus on Influencers First – They are usually the ones with the biggest percentage of followers that create content about the niche you are in so put in the time to reach them. Skip the clever "Outreach Strategies" when reaching out to Influencers. Chances are, they read the same posts you did to improve outreach. Plus they get bombarded with the same outreach templates daily. "Would you mind if I send the link over to you?" – You've probably gotten one of those recently. Be real, be you & respect their time.
Once you get a lot of social shares, start approaching big publisher sites if they haven't approached you already. – Show them your post and numbers. They are always on the lookout for content that works and they will be happy to re-publish it for you. You'll be visible to even more people. Don't forget to make the most of it by building your email list.
How about you? What's your take on social signals as part of SEO? Have you seen any direct effects? Have you tested it?
Please share your results in the comments below!
Take The Conversation Further
We'd love to hear from you about this article. Join the LeapFroggr Lead Generation Dojo!