Typhoon Yolanda Update | How to Help and Where to Donate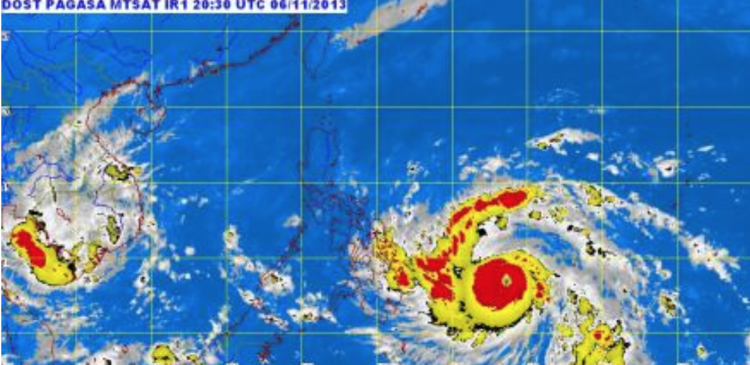 A Time to Help, A Time to Heal
Typhoon Haiyan, or Yolanda, as it is called in the Philippines, started to form on November 3, 2013 and evolved into a super typhoon several days later. The highest wind speeds measured in at 195 kph with over 1,800 confirmed deaths and about 10,000 left undocumented. The super typhoon destroyed USD858.60 million dollars in properties and produce including substantial damage to livelihoods. The affected areas include China, Vietnam, Micronesia, and the Philippines—the last being the most devastated of them all. Haiyan is the strongest pacific typhoon ever recorded counting as a tropical cyclone.
The most decimated provinces in the Philippines are Leyte and Samar with six accounted landfalls in a span of 12 hours. Aside from strong winds, Yolanda also brought about heavy rains that easily led to flooding. For areas that were near coastlines, waves as much as six meters in height were recorded during the rampage.
The effects of the typhoon were so strong that even reinforced buildings like the primary airport in Tacloban were destroyed. In this particular location, apart from demolished buildings, Yolanda also brought about destruction in the streets. Trees were knocked down and so were power lines. Residential buildings were as easily destroyed with inhabitants either injured or trapped for dead.
Over a thousand people in Tacloban alone were recorded dead only after several hours. Samar was not far behind with an initial death toll of 800. The super typhoon led to an estimated destruction of up to 80% of both provinces. The storm has officially left the Philippines' area of responsibility but these provinces remain under a state of calamity with more people being proclaimed dead every minute and numerous families still lost in the wreckage. News is sparse but sought-after. Several images of the super typhoon have trended online including the dreadful capture of the dead sprawled unto city streets.
Friday's International New York Times front page — photo of mass burial in Tacloban by @philippe_lopezpic.twitter.com/NKrzCrEsdd

— AFP Photo Department (@AFPphoto) November 15, 2013
Communication towers have since been restored but the reach is still limited. Plenty of people have been left with zero food, clothing, shelter, and most of them are still in the search for their loved ones. There have been constant relief efforts during the past couple of days but cases of hijacking and looting have been reported.
One truck carrying relief goods to the people of Leyte was hijacked while several deliveries have failed to reach their destinations. There is no trace of the goods or the perpetrators of the crime. Times have gotten really tough: the living have also been reported to steal from the dead. Some residents have taken belongings like clothing and other materials that they could find from the dead that line the streets. Government trust is extremely low.  A lot of people are beginning to lose hope.
Even now, the relief efforts are hampered by doubt.  With the current onslaught of government trust issues, embassies have also started direct relief efforts where no donation, financial or in-kind, are said to pass through the different government facilities. Different accredited volunteers and organizations will be delivering these relief goods directly to the typhoon victims and communities in the ravaged provinces. You can find more details about this matter here and discover netizens' reactions and discussions of the disaster here.  Even as some compare and contrast it to recent disasters such as that in New Orleans, debating how Philippine government response and safety nets measure up to US ones, one thing at least cannot be debated: that there are thousands upon thousands of people at the moment for whom the only debate is whether or not they and their loved ones shall survive this tragedy.
It's clear that the Filipino people are being tried very sorely by this disaster.  Fortunately, many people are rising up to the challenge.
We ourselves at Leapfroggr have been doing and offering assistance for the victims of the disaster, and we encourage everyone we know to do the same. Constant relief efforts are underway and several drop-off, collection, and repackaging points have been set up in Manila and surrounding provinces.
For those who are interested in lending a helping hand, here are the necessary details compiled according to city base (the list also includes details for national and international donors):
BACOLOD
Operation Yolanda, University of St. La Salle Bacolod
Drop-off point: 2nd Gate Security Office, Center for External Relations, Institute for Negros Development
BATANGAS
Isla Verde, Batangas
Drop-off point: Meralco Site, Kumintang, Ilaya through Brgy.Captain Arnold E. Briton
Contact person: Briton at 0910-8843334
BONIFACIO GLOBAL CITY (THE FORT)
TindogTacloban
Drop-off points for donations:
VCF Fort – 32nd Street corner University Parkway Bonifacio Global City
Contact person: Joey Hernandez at 347-3975
CAGAYAN DE ORO
Liceo Ripple of Hope
Address: R.N. Pelaez Boulevard, Carmen, Cagayan de Oro City
Contact numbers: (088) 858 4093 to 95 local 231 or 0917-7161613
CEBU
UP Cebu SC and UP Katilingban Han LeyteñoNganSamarnonugBiliranon
Contact persons: Darl Santos of KaLeSa-Bi and YnnaBisnar of UPC SC at0943-4116336, 09328637303
Ramon Aboitiz Foundation, Inc.
Address: 35 Lopez Jaena Street, Cebu City
Contact person: Edwin Marfil (local 510) or TotitsOcampo (local 204) at (032) 418-7234
Bangon Isabel, Leyte
Contact persons: Pipo Omega at 0933-4219705 or Shiena Marie Bucol at 0917-3262258/0922-8001987 (Cebu)
LEGAZPI CITY
Tarabanagan, Tara Bangon of the Bicol University (CU) College of Science Extension Office
Address: G/F BU College of Science Building 2, Legazpi City
Contact persons:
-Jonathan Jaime Guerrero – 0917-5928610
-John Jervie Alcera- 0917-9270262
-Mellie Morcozo – 0915-3161527
MANILA
De La Salle University's Center for Social Concern and Action (DLSU-COSCA)
DLSU-COSCA is accepting web-based donations from overseas individuals via GlobalGiving.com.
Credit and debit card donations accepted.
Address: COSCA Office 2nd Floor, Br Connon Hall, DLSU Manila
Contact Joseph Rosal, Coordinator for Community Engagement, COSCA at 525-4267 or local 147 or 0922-8992558
Phi Yolanda Relief Operations of Phi Kappa Mu Fraternity and Phi Lambda Delta Sorority
Address: UP Manila, Pagkalma Park, UP College of Medicine, Pedro Gil St., Malate, Manila
Contact persons: Miko at 0917-5129144 or Gela 0927-7029488
Twitter account: @PhiLambdaDelta1
St. Scholastica's College
Address: 2560 Leon Guinto St., Manila, located behind DLS-College of St. Benilde.
Cash/check donations:
Account name: St. Scholastica's College Manila
Bank: BDO account number 4580-000-210
Email your transaction receipts to lizaban2@gmail.com for proper acknowledgment.
MUNTINLUPA
TindogTacloban
Drop-off points for donations:
VCF Alabang – 4th Floor Filinvest Wing, Festival Supermall, Alabang, Muntinlupa City
Contact person: Joey Hernandez at 347-3975
De La Salle Santiago Zobel
Drop-off points: Gate 2, 3, and 7 of the campus.
Contact persons: Mr. Jayjay Jacinto at 0917-8597602 or Ms. Evangeline De Peralta at 0917-5638870
For cash donations:
-Account Name: De La Salle Santiago Zobel School
–Bank: Union Bank of the Philippines, Ayala Alabang Village
–Peso Account: 0180-3000-6691
–US Dollar Account: 0181-0100-9418
Note: Send a scanned copy of the deposit slip to lesacasr@dlszobel.edu.ph orjacintojn@dlszobel.edu.ph for proper acknowledgment.
PASAY
Department of Social Welfare and Development (DSWD)
Address: NAIA Chapel Road, Pasay City (at the back of CAAP)
Bank accounts for cash/check donations:
-Landbank of the Philippines Account numbers:
–Current: 3122-1011-84
–Savings: 3124-0055-81
*Contact Fe Catalina Ea – 09186281897
*Repacking of relief goods ongoing at DSWD-NROC, Pasay City. Interested volunteers can call 8512681 to schedule.
PASIG
The MVP TulongKapatid Center
Address: Meralco Covered Tennis Court, Meralco Compound, Ortigas, Pasig City
Contact person: Eds Addun at 0939-9133771 or 632-8301
Operation Blessing Philippines
Address: E. Rodriguez Ave. C5 Road cor. Corporal Cruz BagongIlog, Pasig City
Contact numbers: 477-7802 to 04 or 0917-5812603
QUEZON CITY
Ateneo De Manila Disaster Response and Management Team
Contact numbers: (632) 426-6001 locals 4051, 4054, 4099
UP Diliman Student Council
Address: New CHK gym, UP Diliman
Contact person: Alex Castro at 0917-8725396, Twitter account: @uscupdiliman
TulongKabataan
UP System, UP Office of the Student Regent
Drop-off point: Vinzon's Hall, UP Diliman, Quezon City
Contact persons: Eds at 0927-3841392 or Zie 0916-7965740
SAN JUAN
Operation WalangIwanan – GawadKalinga
GawadKalinga Philippine Peso Current Account number: 3101 0977 56 BPI EDSA Greenhills
GawadKalinga US$ Savings Account number: 3104 0162 34 BPI EDSA Greenhills
(Swift code: BOPIPHMM)
TAGBILARAN
Lingap Gabriella Bohol
Address: FARDEC Office, Lower Butalid St. Tagbilaran City
Contact number: 0912-5949170
NATIONWIDE
ABS-CBN SagipKapamilya
Pledge lines: (02) 411-0183, 411-0182, 411-0115
Air21
*Free door-to-door pick-up of relief goods on Sunday from 10:00 a.m. to 4:00 p.m.
Hotline: 854-2100
Twitter: @Air21ph
Banco De Oro
(Direct donation)
Peso: 00-453-0018647
Dollar: 10-453-0039482
Swift Code: BNORPHMM
Metrobank
(Direct donation)
Peso: 151-3-041631228
Dollar: 151-2-15100218-2
Swift Code: MBTCPHMM
Mu Sigma Phi Relief Operations of the UP College of Medicine
Contact persons: Eman at 0925-8843050 or Billy at 0927-5711017/0922-5356100
Cash donations:
-Account name: Mu Sigma Phi Relief Operations
-Bank: Philippine National Bank (PNB) – PGH Branch
-Account number: 504259500015
-Swift Code: PNBMPHMM
-Routing # 01008-0081
Philippine National Bank
(Direct donation)
Peso: 3752 8350 0034
Dollar: 3752 8350 0042
Swift Code: PNBMPHMM
The Philippine Red Cross
Hotline: 143
Trunkline: 527-0000
*You may also SMS donations by texting REDAMOUNT to 2899 (Globe) or 4143 (Smart)
Unionbank of the Philippines
(Direct donation)
Peso: 1015 4000 0201
Dollar: 1315 4000 0090
Swift Code: UBPHPHMM
INTERNATIONAL
Caritas Filipinas Foundation
Caritas Manila
Victory
Victory Fellowship Website
Save the Children
Save the Children Website
Unicef
Unicef Website
World Vision (International Christian Humanitarian, Development and Relief Organization)
Donor hotline: 372-7777 or visit their website
World Food Programme Philippines
Donations can be made via credit card or Pay Pal
Check their website here
ShelterBox
ShelterBox is an international charity focusing on disaster relief and management: it provides emergency supplies as well as shelter to victims of disasters. Donations for victims of Typhoon Yolanda can be made through the charity's website.
On Taxation and Donation
Local donations and relief efforts are not taxed but the same cannot be said for international aid. Depending on the point of donation or the manner by which any financial aid is given, different tax rules may apply. As declared by the Philippine government, for all donations that have been coursed through government offices and departments, local and international aid will not be susceptible to duties. There are a limited number of international organizations like Unicef and the World Food Program that also offer tax-free donating. As for other avenues, all aid will pass through domestic customs and providers will be liable for standard taxation.
"We are providing a water treatment plant along with the.. hospital" @UNICEF spokesman on #Tacloban relief effort.#AC360

— Anderson Cooper 360° (@AC360) November 15, 2013
All efforts, no matter how little, can help out a lot. There are plenty of opportunities to lend a helping hand. There is no need for large financial donations. Look at what a preschooler from Japan did earlier this week.
Aside from making monetary donations, donations in kind will be greatly appreciated. Apart from this, you can also help out with the repackaging efforts for relief goods. There are different venues holding such events. You can find these and more online. The local governments are also asking for volunteers to help with the delivery of relief goods. In Manila, aside from government offices and local charities, one of the main drop off points is Villamor Airbase in Pasay where a number of survivors are staying.
For those making monetary donations, please keep in mind that caution is still wise here.  To avoid your donation going astray, choose only an authorized and reputable charity like the ones listed above.  Investigating charities before donating is a good idea, as you want to be sure you do not make the mistake of giving to an illegitimate organization.  Keep in mind too what you want the money to achieve.  If you want to make sure your money helps the victims with medical costs, for example, look for a charity that focuses on that.  By the same token, if you want your money to help people now instead of later (the resettlement process), make sure your chosen charity is focused on the immediate situation as well.  You can use the numbers provided above and the contact details for the organizations to ask them about what they plan to do with your money.
On Updates and Social Media
For the latest updates on typhoon Yolanda, the devastation and how you can help, follow #Yolanda, #YolandaPH on social media networks.
Other hashtags you can follow are #BangonCEBU, #BangonOrmoc, #BangonVisayas, #ReliefPH,#YolandaActionWeekend, #Haiyan, #ShapePH, #StrongerPH
Those on Instagram can make use of the great images there with timely info on where you can donate or how you can offer support and there's no shortage of inspirational quotes.
Let's extend our assistance to our fellow brothers and sisters who have lost everything due to this natural tragedy. Let's help those who need assistance during these trying times. Let Filipinos work as one again for our fellowman.
If you have a charity or operate on your own, then let us know, we will gladly add you here so the people in your community can find out.
Take The Conversation Further
We'd love to hear from you about this article. Join the LeapFroggr Lead Generation Dojo!