4 Overlooked Ways to Get More Traffic Using Web Mentions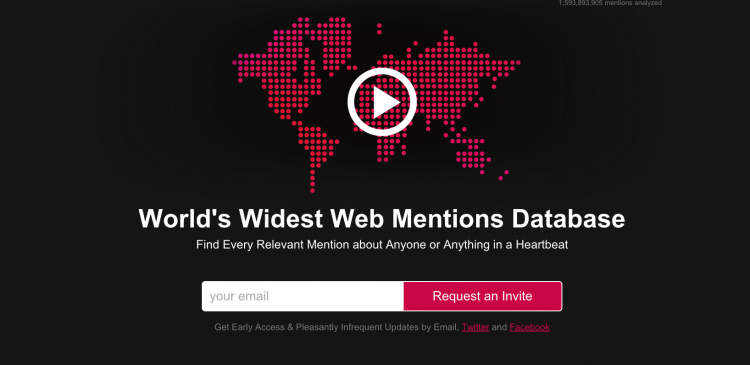 Today we have our very first guest post (champagne to celebrate, anyone?) and it's coming from someone pretty awesome.  Razvan Gavrilas is both founder and chief architect of cognitiveSEO, and he's been in this game long enough to know what he's talking about.  Without further ado, here's what he has to say:
---
Information technology has improved so much during the last few years that it's almost impossible to pay attention to all the things that interest us, let alone to something else.
If you're being read and visited very often, it's not a matter of hazard – behind every minute spent on a site there's a consistent marketing strategy, the same effort it takes Starbucks to persuade you into buying another cup of coffee.
Particularly if your domain happens to be inherently connected to the web (but not exclusively), you'll agree that it's impossible to keep up with every change in your niche. BrandMentions is a tool for us, we people of the online, and it's designed to keep you in touch with the most relevant information you need to know.
The 4 Ways to Get More Traffic Using Web Mentions
1. Keep Up to Date with Your Niche
It's essential to know what people in your domain are up to, whether their content marketing strategy is successful or not; based on that, finding a way to leverage quality to your advantage isn't a terrifying process as much as it is a creative pursuit.
Monitoring your competitors allows you to get information about their activity from third parties, which very often completes the perspective you need to have for a solid marketing approach. Then, you can see who is interested in products or services in your niche, and this monitoring can help your network grow if you find a suitable approach.
If I, for instance, produce cookies in the US and I'm a follower in the market of Oreo, I would be interested to see if people say something about my brand, my main competitor or if anybody out there makes a comparison.
For instance, here I learn that a great promotion strategy for my service is a partnership with a coffee brand, since the two products go great together.
I see that I could try posting coffee concept art photos, with my cookie brand as the best morning treat. I can apply this on social media, and see how my site traffic is influenced by this strategy. And then I ask myself if that could really work, until I see another mention that gives me the entire perspective.
Then, whenever an influencer in your niche writes about one of your competitors, complaining about their services, you can contact them offering the better solution – your services, highlighting the competitive advantage. Don't take that as a recipe – it was just an example of how to handle your competitors' activity online.
There are hundreds of examples of how you can capitalize on the valuable information you're earning about your niche, from silently taking notes to being vocal and proactive.
Running through different mentions from my competitor, I saw this mention from the screenshot below and it gave me an idea. I realized I could post a diet recipe of my cookies. Something that is simplified and people can try at home.
This technique would certainly raise the interest of all those addicted people who are full of remorse. And it's a great marketing strategy that I discovered while browsing through general complaints from my competitor's brand.
After this gets viral I could, for instance, publicly declare that I will have a product expansion – if there are enough people who like my diet cookies recipe – I will produce healthier and cheaper cookies than my mammoth competitor on the market.
2. Look Where the Grass Is Greener
Most of us lack time to spend searching for all the new data at our fingertips, as ironic as it may seem. Creating alerts about specific keywords or topics that you are constantly interested in easily keeps you in touch with the latest work in your niche.
According to a new international ATKearney study, we choose online information instead of traditional media because it is more convenient.
We can extract from the massive bulk of information only those particular things that bring relevance and competitive advantage to our work.
As a professional who's interested in accessing the most recent information as fast as possible, I can set up alerts depending on my needs and niche, to be kept in touch via email.
The alerts should sometimes be more specific, depending on how broad your niche is, so that the returned results best match your needs and interests. Trends are the bread and butter of the Web and here's how you can turn them in your favor through constant monitoring.
If I set up an alert with Oreo, I will constantly know what my main competitor is up to, as it happens, according to my needs.
Knowing what they're doing can give me ideas of where I can start from. Seeing where they're mentioned allows me to find on the spot what they're doing right and wrong, who is unhappy or dissatisfied with their product, and to offer them the better alternative: my cookies.
Take this last mention – '25 Wedding Desserts That Are Far More Exciting Than Cake'. Assuming Oreo is one of the ingredients for these delicious feasts, I could publish on the blog of my official site one recipe a week using my cookies, as a cheaper/more convenient alternative to other popular desserts. This will bring me traffic and it's an idea I've gotten from my competitors.
3. Manage Your Online Reputation
Feedback doesn't always come in the form of long, meaningful conversations – but now it's very easy to obtain.
Suppose, for instance, that my business is M&M. Yes, the ones that 'Melt in Your Mouth, Not in Your Hand'. Those M&M's.
Apparently Forbes finds it that I'm not really ahead of my main competitors.
Engaging in Social Media comments is compulsory when you want to remain in the spotlight. After reading an article from a respectable source, I can investigate the social media engagement causes for my competitors, and see which of their strategies is working best and why. Being mentioned by such a high authority source is, however, important for leveraging my image. While Forbes doesn't usually link to their subjects, I can always engage in comments and show that I'm active and supportive of my customers.
Reputation is a tricky thing – one day you're the good practice example of your niche and everyone around is taking notes. The next day people won't even remember who you are.
The bad publicity is good publicity philosophy works only to a point from where damage control must take over.
Setting a mention alert on your brand prevents expanding a negative image. It gives you the opportunity to answer promptly – which should at least show that you care.
You must be aware that your brand is researched daily in your industry, from customers to investors before you're contacted for any business proposal. And since everybody does research, so should you. Internet slander is a dangerous thing and virtually nobody is protected from it – the least you can do is constantly manage your reputation online.
There's nothing selfish in managing your image. Perhaps the greatest professional achievement after spending years of constant work, sleep deprivation and enough coffee to feed a nuclear reactor is knowing you're a first-class professional.
If, for instance, you occasionally write guest posts, you may be interested which pages of your content rank higher in searches, generate engagement and buzz. This helps you capitalize on your content strategy as well as your reputation.
Needless to say, you're the constant ambassador of your brand, whether you like it or not. Endorsement can go both ways, especially if one of the parties is going through an image crisis.
4. "Fish" for New Marketing Techniques
So, we're all interested in generating more organic traffic. Monitoring a particular marketing strategy will keep me updated about its mentions on the web, providing with all kinds of professional experiences. Gathering information on the matter is a crucial step in deciding how you can best apply a specific strategy to increase efficiency.
Monitor influential people in your niche. See what they do, how they do it and what keeps people reading their stories. See whenever they mention something related to your expertise and propose collaborations.
Observe more tactics and resources at once and decide which one fits your business better. Sometimes what a good brainstorming lacks in the decision-making process is palpable experience – the inability to relate to or to foresee some effects because you can't seem to put yourself in the position of a know-it-all. And there's nothing wrong with that. Knowing when to look around is sometimes more cost-effective and time-efficient than A-B testing your way to success.
Suppose you're one of the influencers of the digital marketing domain. Or that you want to be one. Either way, you should know where you're standing. You can do this by monitoring in comparison someone who is already popular and see where they appear. For instance, there have been 41 mentions of the name 'Scott Abel' on the web during the last 24 hours.
You'll say it's not much, but given the very specific niche the content strategist is in as well as the authority of the sources that mention his name, this sets a good example.
After you've seen what influencers in your industry are doing, compare the results with yours and see what there is to improve.
Conclusion
To make the best out of your image, you have to stay tuned into what's happening offline while closely monitoring your online presence. What BrandMentions suggests is that there are some degrees of involvement: understand what is being said, contribute to what is being said, change it – whenever you feel the need for improvement and never leave accountability out of this branding equation.
Unless you thrive to be part of the trend, you'll find yourself as yet another voiceless business prone to failure. There's no other way than to capitalize on your reputation – in case you're interested in having one in the first place.
Take The Conversation Further
We'd love to hear from you about this article. Join the LeapFroggr Lead Generation Dojo!