The Basics of Content Marketing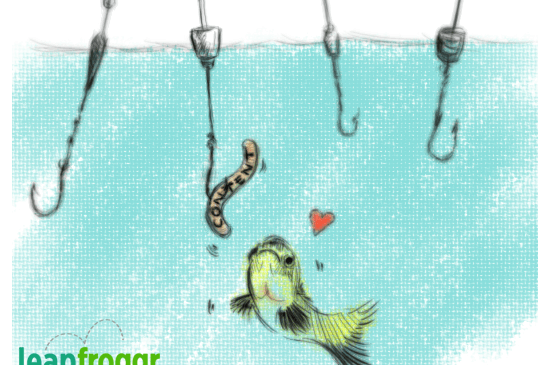 As far as SEO is concerned, it's important that you realize that high-quality content is probably one of the bigger factors when it comes to increasing your ranking on the search engine results pages. Remember that search engines use different algorithms and the biggest of them, Google, uses over 200 factors in it's algorithm for classifying websites. Some of which may include using the right keywords or structuring a website with user interface and experience in mind.
However, at the end of the day, the usefulness of your content in the context of the search that was performed gives the biggest value to the user and ultimately, the search engines.
Before we continue to talk about what content marketing is and our tips for business owners to use, we'd like to make something clear.
We hear about how "content is king" day in and day out. But if we are to really call ourselves SEO's, then we need to admit that other factors, most obvious of which are backlinks, are equally as important.
We believe that "content is key" as that is probably the more honest statement. Your content will never build links on it's own, nor promote itself, after all.
So, getting back to topic, if you have recently set up a small business online, or maybe you've created a blog or a social networking page for your company, and you want to gain more visibility online, you should give importance to the content you put on these pages. Content doesn't have to come in the form of a formal article. Your content could be in the form of photos, videos, infographics, blogs, social media posts, etc.
The process of optimizing and promoting your content is called content marketing.
Why Is Content Marketing Important?
It was already discussed in our article on digital marketing that there are two forms of marketing: push (outbound) and pull (inbound). While both have great benefits and work well with one another, if you're still starting an online business, your best option is to engage in inbound marketing first. Instead of pushing information to let people know about your business, you use information to pull in more visitors and have them stay on your page longer.
Content marketing is a form of inbound marketing in which you actively share or market high-quality content that people will love to read. In effect, because of your attractive content, people are more likely to search for you. If they like what they see on your page, they will also keep coming back to it, and possibly spend more time browsing through your website. This could eventually lead to a higher conversion rate by leading these readers into your sales funnel.
Think of your content as the magnet that draws people in, giving you a chance to show them what you can offer later on. Note the "later on", which can be replaced by "at a tangent".  It's important to understand that while content marketing is still a form of advertising, you see, its main purpose is to share valuable information with the page visitors. Because your chief intent is not to sell your products and services, your visitors are more likely to trust you. It's a good way to establish a friendly yet still professional relationship between you and your potential customers.
With content marketing, you potentially get your visitors to do the promotion for you. How? When they read useful and interesting content, they will be inclined to share that content with their friends, usually via their social networking pages and their blogs.
Content marketing will also have a positive effect on your ranking on the SERPs. Search engines will see that you have content that is relevant and useful when people keep visiting your page, sharing your content and linking to it from their blogs. Thus, you get a better chance of scoring a higher ranking down the road. Plus, you may also be seen as a topic's content specialist or a thought leader, which could lead to more opportunities.
Before You Create Quality Content…
Before you start writing your content, you need to do some research. Come up with a target persona. Familiarize yourself with your products and services, and who you think they're for. Where does you company stand currently? Where do you want to be ten years from now? How do you measure success (e.g. many followers, high sales, high SERP ranking, etc.)? Who are your competitors and what are they doing now? These are all very important to determine how you will go about your content marketing strategy.
As mentioned before, you need to know who your content is specifically targeting; otherwise, your marketing strategies won't work right, in most cases. A basic knowledge of your customers and your industry go a long way. If you have an idea of who you want to attract as customers, then it will be easier for you to determine the platform where you can share the content. 
For example, your products and services are specifically designed for women and may be concentrated on the latest fashion. While you can still do your content marketing using your blog or maybe your official website, you can also attract more female visitors when you put relevant content on sites that are known to be dominated by females, like Pinterest.
Now, from the information you obtained, you will then start creating high-quality content that targets your preferred demographics, challenging to your competitors, and beneficial for your company in the sense that it helps achieve your goals.
How to Create Quality Content
Now it's time to get creative. Writing content doesn't necessarily mean writing a long scholarly article, though this may have merits when it comes to usefulness and completeness of information. Aside from making sure that your content provides your readers with a set of useful information that they've been searching for, you also have to ensure that the content captures their attention and calls them to a form of action.
Here are some tips for how you can do this:
i. Write your content with SEO in mind.
If your goal is to make it to the front pages of the SERPs, then you shouldn't ignore SEO best practices. In this case, don't overlook the power of well researched keywords, which you can include in your articles. There are those who also suggest that you first come up with fully optimized keywords, and then write an article based on those keywords.
You should also pay close attention to how your listing will look on the SERPs. Your title tags and meta description should tell the reader that your website has what he's looking for. Here's an example:
Similar to PPC ads, the content (title and description) that appears should get the attention of your readers. Using call-to-action phrases to encourage people to click on your result can also be a critical component to a successful content marketing campaign.
ii. Engage in Social Media Marketing.
Many business owners have decided to first open their businesses in social networking sites. Why not?
Facebook alone is enjoying over a billion monthly users, and that's a number that businesspeople should take seriously, especially if they want to increase their brand's visibility and sales.
Aside from putting all of your effort into enlarging your following, you are advised to prioritize the content that you post on your page. If you have captivating and interesting (and useful) content, then you will find that people will be the ones liking your page without much nudging from you.
It's not enough that you post high-quality content on your page, and then just wait for followers to like, share, or comment on it, though. What you can do is actively engage your followers in discussions by acting as facilitator. Reply to comments and talk to your followers personally. It's a step to building better relationships and creating a friendlier environment in which your followers will want to stay. The key is to practice active and genuine communication, which is two-sided.
There are plenty of ways to start a discussion on social networks. You can start by asking questions or posting an inspiring or challenging status update. On other sites, like Twitter and Instagram, contests can also be conducted to encourage the participation of followers so it's not just for Facebook.
iii. Use pictures and videos.
Most of the time, even if your page has the content that a person is looking for, if your content is presented in a way that doesn't look interesting, there's a good chance that the person will leave. That's why it's a good idea to break down your article into short paragraphs to make it easier to read. It's also recommended that you accompany your text with pictures, GIFs, or videos.
These days, most articles that go viral are those that have interest-grabbing titles, like "10 Things You Should Do to…" or "How to Do…". The title is interesting enough, but what really grabs the attention of the readers is the way that the article is structured. Take the example of articles from Buzzfeed, Cracked.com, and Huffington Post.
Most of the posts come with entertaining and interesting pictures and videos to support each paragraph.
Your content can also come in the form of standalone pictures and videos. A single picture can get your point across, and this is when you need to unleash your imagination the most. As they say, "A picture is worth a thousand words.", and business-wise, let's hope that your picture will also get you a thousand or more supporters.
Before posting pictures and videos, make sure that they're fully optimized. For instance, your pictures should be of high resolution, and your videos are clear, in terms of display and intent. Most important is that both can tell a story that inspires and motivates people to respond.
iv. Be familiar with all kinds of content that you can post on your website.
Aside from long, informative articles and a bunch of pictures and videos, you can try posting other types of content, like infographics, blog posts, quizzes, surveys, contests, etc. These are unique ways to catch the attention of people and urge them to stay on your page and participate.
Infographics, for instance, can make a tedious topic very interesting. Click here for examples.
v. Use tools to measure your content marketing success.
Google Analytics is a great tool that will help you gauge the success of your content, based on the traffic that it drives to your page. Kissmetrics provides a list of tools that will be useful for content marketing, from content creation to management.
As a bonus tip, when creating high-quality content, don't be afraid to mix things up. It's all right to keep doing what you do best, but remember that your readers are always on the lookout for something new, and it's your duty to make sure that your content will always pique their interests. Regardless of where you post your content, the important thing is that what you post is important and entertaining that your readers will find it difficult to leave your website.
On the other hand, it's also a plus if you have a clear idea of where you will post your content because you wouldn't want to risk having duplicate content. Your readers want something fresh, so copy-pasting your content from your website to your blog or to your social pages are not recommended, unless really necessary.
What you can do is post your content in one place, like your main website or a blog, and then use your social networking pages to promote and share that content. That way, your readers will never get bored by seeing similar things every time they visit each of your sites.
At the end of the day, your content is all about your readers. That's why it's essential that you have a clear idea of who your content is targeting. Ultimately, what keeps people on your page is what will keep you in business.
Take The Conversation Further
We'd love to hear from you about this article. Join the LeapFroggr Lead Generation Dojo!